Rugby League World Cup 2013: England v Fiji - a family affair
By Paul Fletcher
BBC Sport
Last updated on .From the section Rugby League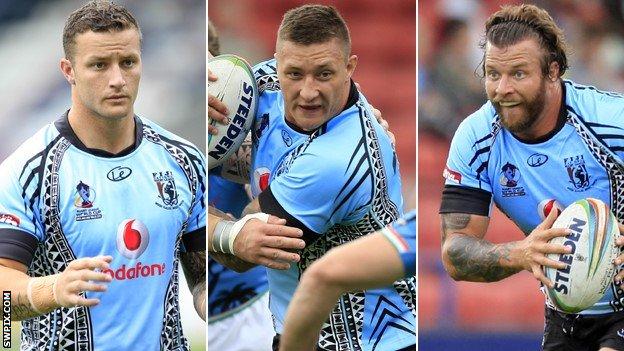 One World Cup, 14 teams, 15 sets of brothers.
Players from the Pacific Islands like to call each other "bro" but at this tournament there is a good chance that this term of endearment is literally true.
The 2013 Rugby League World Cup is nothing if not a family affair - with brothers featuring in 10 of the competing nations.
And there will be family ties all over the pitch at Hull on Saturday when England meet Fiji in their final Group A match, with both teams already all-but assured of a place in the last eight.
Much has been made of the three English Burgess brothers - Sam and twins Thomas and George - but there are three sets of siblings in the Fiji squad of 24.
They are Kevin and Wes Naiqama, Daryl and Ryan Millard and, in the Sims, they have their very own version of the Burgesses, with Ashton, Tariq and Korbin set to line up against England this weekend.
Had all the Sims and Burgesses been selected it would have been the first time two sets of three brothers had started against each other in a Test, though that prospect disappeared when Tom Burgess was rested.
Like the Burgesses, all of the Sims are big, powerful forwards who love nothing more than crunching into an opponent.
"The Burgess boys are three big, bad dudes but so are we," said the bearded Ashton, who at 28 is the eldest.
Tariq, the middle brother at 23, puts it this way: "I know we won't be taking a backward step and neither will they. Let's play it hard and let's play it fast."
Tariq responded to a tweet some months ago by former Australia international Mark Geyer suggesting that the Burgess boys and the Sims should take each other on with some all-in backyard rugby league.
"I tried to get in touch with the Burgesses to set something up but they must have been busy," added Tariq.
In addition to Fiji and England, there are brothers in the Australia, Cook Islands, France, Ireland, Italy, Scotland, US and Wales squads - a total of 32 players.
"It is just a crazy situation," added Ashton. "There must be a lot of very proud parents out there."
Ashton, Tariq and 21-year-old Korbin play for clubs in the Australian National Rugby League and qualify for Bati through their Fijian mother Jacqueline.
And representing Fiji has been a spiritual as well as sporting experience for the brothers.
The squad start the day with devotion at 7.30am, pray before every meal and the day ends with devotion at 6.30pm and midnight.
The Sims do not room together - every NRL player has been paired with someone less experienced - but most are tucked up asleep before the final devotion.
When Tariq revealed he had attended a midnight devotion session, his brothers gave him a look that suggested surprise and approval in equal measure.
The spirituality extends to matchday as well. Opposition teams may have been struck by the sounds of tuneful prayer emanating from the Fiji dressing room at half-time during their two games at the World Cup.
And one of the most poignant moments of the tournament so far came after Australia's 34-2 win over Fiji in St Helens last Saturday, as the Kangaroos joined their opponents on the rain-soaked pitch for their traditional post-match prayer.
The Sims were raised in the small seaside town of Gerringong, 90 minutes south of Sydney, and enjoy the sort of banter typical of brothers who share a close relationship.
When Tariq suggested hygiene was not Korbin's number one priority, Ashton decided enough was enough and started to discuss Tariq's "dragon breath".
But they are undoubtedly serious when talking about what it means for them to play for Fiji and their hopes for the tournament.

"I played for Fiji at the 2008 World Cup and I said before our opening game here against Ireland that we have a much better squad now on paper with more NRL experience," added Ashton, who got married in Fiji.
"We've got something special here. We are all here to win the World Cup, not just play in it."
Fiji have an incredibly aggressive pack - as anyone who witnessed a particularly thunderous if undisciplined period of play during their 32-14 win over Ireland will testify - and a talented back five who all play in the NRL.
When they first got together there were a couple of issues during a week of bonding and training in Fiji.
Ashton talks about the concept of "Fiji time" and reckons that during the first few days time-keeping was a problem with some of the players, but a series of fines and extra training sessions soon put an end to that.
And they are confident that they will give England a severe test when they meet at the KC Stadium for a fixture that will effectively decide who finishes second in Group A.
"We have watched a couple of the England games and they have good forwards but also some silky smooth backs," added Ashton.
"We are not going to concentrate on one part of the game. If we do that their packs will burn us.
"It is something that we have trained for - we had a hard slog on Wednesday morning working on an across-the-field mentality."
Asked how he would describe what sort of match he expects on Saturday, Tariq said: "Physical, proud and passionate, with a bit of Fiji flair."
Korbin was the most succinct of the three, simply saying: "I cannot wait."
Brace yourself for the battle of the brothers.