Rugby League World Cup 2013: Brian Barwick delighted by interest
Last updated on .From the section Rugby League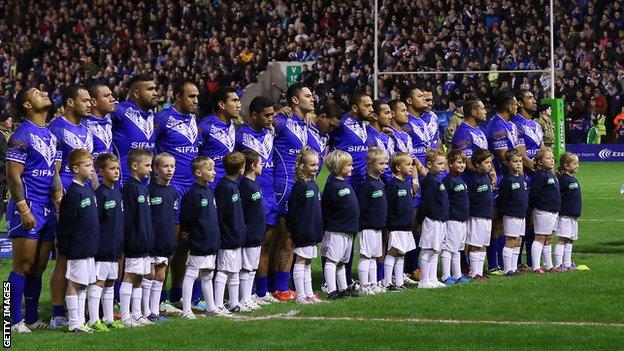 Rugby Football League chairman Brian Barwick says public interest in the World Cup has exceeded all expectations.
"Both England games played on the BBC peaked at over two million viewers - these are new figures for us," he said.
"We're also up to 70,000 tickets sold for the final."
Barwick is particularly pleased that enthusiasm for the World Cup has not been limited to England games, and that the tournament has gained a foothold outside its traditional heartland in the North of England.
"We had nearly 8,000 at Bristol, (for the match between USA and the Cook Islands) which is not a rugby league hotspot, and we've had terrific media audiences," he told a meeting at the Nolan Partners Sport Industry Breakfast Club.
Former FA chief executive Barwick feels that the Rugby League World Cup has benefitted from the spectator and volunteer culture engendered by the London 2012 Olympics.
The match between Tonga and the Cook Islands at Leigh on Tuesday night attracted a crowd of 10,544, while there have also been sell-outs for games at Rochdale, Warrington, Workington and Avignon.
"I think this is a legacy from 2012. I think people have got into the idea of going to events," he said,
"They may stay with us forever, they may not stay with us forever, but I think people like to go to events.
"We have a team of volunteers - that's a legacy of last year and they are loving being part of it."