Rugby League World Cup 2013: Ireland start as major underdogs
Last updated on .From the section Rugby League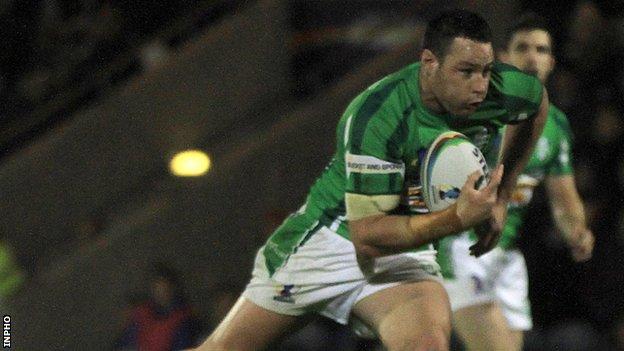 Ireland will start as major underdogs for their final Group A match in the Rugby League World Cup at Thomond Park.
But prop Brett White is looking at the bigger picture as he gets set to face a host of past and present team-mates.
White, who played for Australia in the 2009 Four Nations series, qualifies for Ireland through his grandfather and sees himself as a pioneer.
"I see my role as trying to build the brand of rugby league in Ireland," said the Canberra Raiders forward.
"I think there's a fantastic future ahead for rugby league in Ireland and, if I can try and help to build that, I'll do my part."
White has led from the front on the field during Ireland's difficult start to the World Cup and, despite comprehensive defeats by Fiji and England, is relishing the experience.
"It's been fantastic, really enjoyable," said White.
"We've worked really hard actually. I guess what's surprised me in a way has been the amount of work we've been putting in.
"In saying that, we've needed to. We were in the toughest position of the tournament.
"That and the professionalism of the organisation has been fantastic. I'm really enjoying the experience."
White is expected to go up against his Canberra pack colleague Josh Papalii as well as several of his former team-mates from the Melbourne side that won the 2007 and 2009 Grand Finals when Ireland play their final Group A match on Saturday night.
"I've played with or against most of them," he said. "A lot of those boys I played with in Melbourne.
"I know first hand the quality of players we're up against. We just want to try and be competitive and do our best.
"We have spoken a lot about the spirit and making sure we don't give up and we keep fighting through the whole game."
Ireland coach Mark Aston heaped praise on the 31-year-old for his bravery and leadership during the side's crushing defeats by Fiji and England but White insists he is nothing more than a foot soldier.
"Most of these boys have played more Test-matches than I have," said White, who was forced to withdraw from Ireland's 2008 World Cup team because of injury.
"I have a bit of experience and, if the team can benefit from my input, then fantastic.
"But I am here to learn just as much. Like everyone. I will take a lot out of this camp."
After playing in front of sell-out crowds in Rochdale and Huddersfield, Ireland are expecting a modest attendance of around 6,000 in the rugby union stronghold of Limerick for a match that is expected to produce a runaway victory for the Kangaroos.