Rugby League World Cup 2013: Scots won for injured Ben Fisher
Last updated on .From the section Rugby League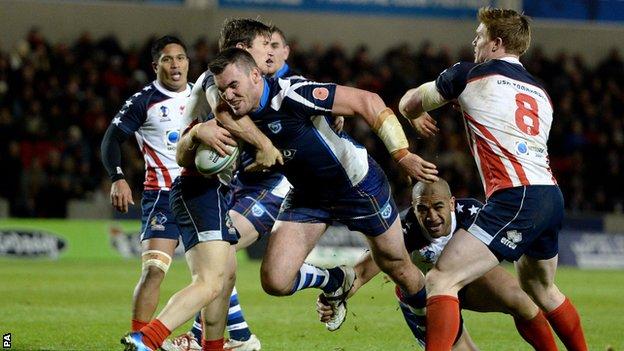 Scotland dedicated their 22-8 victory over USA to injured Ben Fisher as they wait to see if they will progress to the World Cup quarter-finals.
Unbeaten Scotland top Group C but will be eliminated if Italy beat Tonga.
"We won that for Fish," Scotland coach Steve McCormack told Radio 5 live. "He's devastated."
Sydney-born Fisher admitted: "I think that is it for me.
"It is a pretty tough realisation. It is not ideal but that is life. It is absolutely devastating to finish on that note.
"Words cannot describe how bad I feel, but I am glad the boys have stuck to the plan and got back on top."
Scotland, who came back from 8-0 down at half time in Salford to inflict a first defeat of the competition on the Tomahawks, had already lost first-choice number nine Ian Henderson to a knee injury, but Danny Addy slotted in as a useful back-up dummy half.
Despite the loss, USA will meet Australia in the last eight.
But the Scots will only join them in the knockout phase if Italy fail to overcome Tonga, who cannot progress.
That is because Italy go into Sunday's match on the same points difference as Scotland, having beaten Wales before a thrilling 30-30 draw with McCormack's men.
"We were quite erratic in the first half," said the Bravehearts' coach. "We were trying too hard.
"Second half; we got back to what we've practiced and got our just rewards.
"The first-half was probably the worst we've played in the World Cup but the second half has given us a chance."
This is Scotland's third World Cup appearance and their results in England have completely eclipsed displays in 2000 and 2008.
"All credit to players, they have been brilliant," enthused McCormack.
"You can't underestimate what these players have achieved for Scottish rugby league - they have put Scotland on the map. We've been on the back pages of the newspapers in Scotland for the first time.
"If you'd said that before the tournament that we'd go through the group stage unbeaten no one would have believed it."