Rugby League World Cup: Can USA's fire dancer shock Australia?
By Phil Cartwright
BBC Sport
Last updated on .From the section Rugby League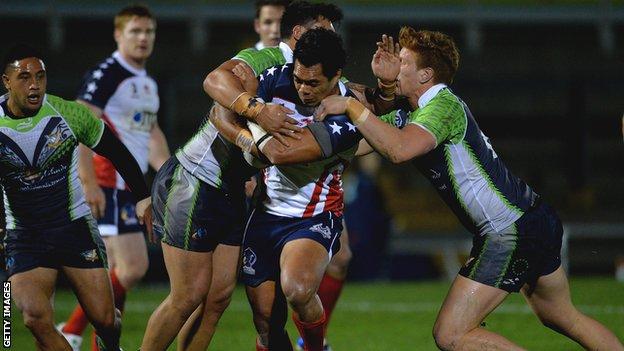 Loto Tagaloa climbs coconut trees and dances with fire sticks to make a living in Hawaii.
He is also part of the USA rugby league team, who were 1,000-1 outsiders at the start of the World Cup and will face favourites Australia in a quarter-final in Wrexham on Saturday.
Tagaloa is not the only Tomahawk with a day job. Prop Les Soloai is a youth worker. Centre Taylor Welch walks dogs. You can throw in a gas fitter and a few personal trainers, too.
Most of the USA squad are part-timers using up annual leave to play, unpaid, at a World Cup.
But Tagaloa's story captures the imagination more than most.
He studies exercise and sports science at Brigham Young University in City and County of Honolulu and, to fund his education, teaches the locals about the culture of his native Samoa - including unusual forms of entertainment.
"I was born and raised there, and then a few years ago I thought I would go to school, but I first played rugby league in Samoa for a local club," the 26-year-old centre says.
"I got picked for the national team, played one game for them and then went to school in Hawaii. I've been living there for a few years now, going to school and doing a little bit of cultural performing.
"It was part of a programme where we worked teaching tourists about our culture. That was how we paid for our school and that's how I got into it."
The USA were playing Tonga in Hawaii early in 2012. The Tomahawks were short of players and asked Tagaloa, who had been playing rugby union locally, if he fancied a game.
He accepted, he impressed, and less than two years later he is preparing to take on the best in the world on the biggest stage of all.
Even the USA's few full-time players have their own quirky tales about their routes to the World Cup.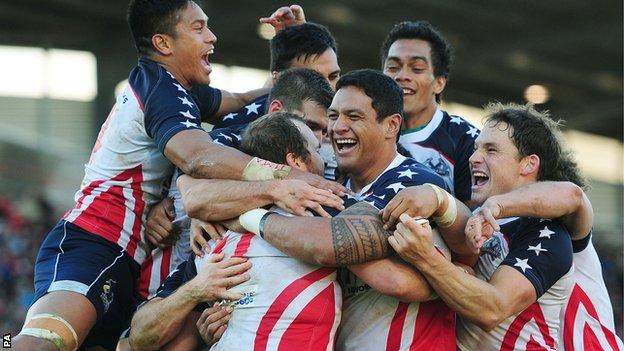 Forward Eddy Pettybourne, who will join in 2014, was only able to confirm his eligibility a few weeks before the start of the tournament and was hastily added as a replacement for an injured player.
After a successful career in Australia's National Rugby League and a spell in England with Wakefield, winger Matt Petersen retired in 2009. The lure of a World Cup swansong tempted him back to the sport.
In the interim, he set up two tyre shops in Queensland. Running those, raising three children and keeping his sporting ambition alive has been a balancing act.
"It was a bit of a stretch to come here, and obviously now we're here for another week so I'm under the pump a little bit, but this has been the best experience of my life," says the 33-year-old.
"It's been a battle. I'm old and my legs are sore. Now I'm here, I wouldn't swap it for the world. It's been the highlight of my career."
Then there is Australia-born half-back Craig Priestly. A former junior with NRL side Cronulla Sharks, he emigrated to New York with his American wife three years ago.
He works as a personal trainer in The Hamptons, an exclusive area of Long Island, at a gym used by celebrities such as fashion designer Calvin Klein.
"I wanted to play again because I hadn't played for a couple of years, so that's why I decided to help build rugby league in America," he explains.
So he set up his own team.
The Southampton Dragons were formed, and they finished third at the end of their first season in the American National Rugby League. Not that there were many people there to see it.
"You struggle to get 100 people to games," the 26-year-old continues. "Not many people know what rugby league is. They know what rugby union is and they think that's what we play."
The USA are rugby league minnows, but to say their progression to the last eight has been against the odds would be doing them an injustice.
Just three weeks before the World Cup began, head coach Brian Smith stepped down for family reasons. Terry Matterson was enjoying a break on Magnetic Island, off the coast of Australia, when he got a call asking him to abandon his holiday and take charge of the unfancied Tomahawks instead.
The majority of his 24-man squad were unknown to him. The time between his appointment and their solitary warm-up match in France a few days later was spent researching the players now at his disposal on the internet.
"I couldn't have asked for anything more if I'd paid a lot of money to do a course," says Matterson, who spent six seasons as coach of Castleford. "It's been the best bit of personal development that I've ever done, and I'm just riding the wave as well."
The team endured an arduous trip to France, including four plane journeys in two days, and had just one training session together before the game in Toulouse, yet they somehow won 22-18 against a side ranked fourth in the world.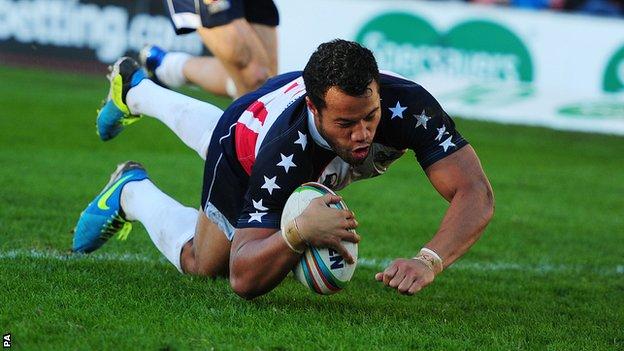 Captain Joseph Paulo, who plays for Parramatta Eels in Australia's National Rugby League (NRL), has since admitted he was learning the names of most of his team-mates while the game was in progress.
At the World Cup itself, victories over the and ensured top spot in Group D, with a quarter-final berth already confirmed before their
Their success came as a surprise to their administrators. The squad were scheduled to fly home shortly after their final pool game in Salford.
Accommodation was quickly arranged, and thoughts turned to answering the question facing even the biggest nations - how do you stop Australia?
Full-back Kristian Freed laughs as I mention a comparison with Billy Slater, his opposite number in the Kangaroos line-up and one of the best rugby league players of his generation. "I'll take that any day of the week," he says.
When asked if he knows the Australia players better than his own, Matterson adds: "Yes. In my job in Australia [on the coaching staff at North Queensland Cowboys] I study their players every week and everybody knows what they can do, but we will not be star-struck."
Whatever the outcome on Saturday, a bigger challenge lies ahead - building a lasting legacy back home to make sure the USA's accomplishments are not wasted.
Injury robbed US-born Curtis Cunz, a logistics expert formerly in the Marine Corps, of the chance to represent his country at the World Cup. He has been an ambassador for the team on this trip, and when he returns to New York, his main objective is to heal the rift that has caused a split in the domestic game.
"After this experience, everyone's going to put their differences aside and get on with it," he says.
Priestly smiles as he speaks about rugby league making it into the sports pages of the New York Times, and children in the playground at a friend's school pretending to be their favourite Tomahawk.
Maybe The Wiggles, the world-famous children's musical group, have something to do with that.
They have composed a song in the team's honour. In it, they plead with US President Barack Obama to 'carve the face of Joseph Paulo on Mount Rushmore'. Unsurprisingly, it has become a sensation on social media.
"It was great. Absolutely classic," says Petersen. "I'm rooming with Joseph's brother, Junior, and when we saw it we were on the floor in stitches laughing."
For Tagaloa, the events of the last month could change his life. Earning a professional contract is the ultimate goal.
"Rugby has always been part of me," he says. "I guess it's every player's dream to be part of a World Cup and to have a career in rugby. It's a dream for me to play rugby professionally and make a living out of it."
And if the USA cause one of the biggest sporting upsets in history by beating Australia, Tagaloa may be able to put the fire sticks away for good.