Rugby League World Cup 2013: McNamara explains Hardaker call
Last updated on .From the section Rugby League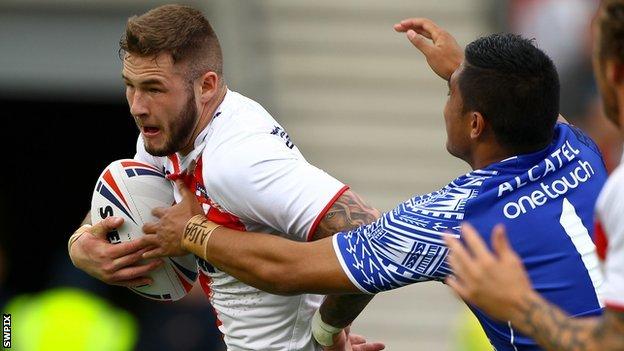 England coach Steve McNamara has insisted he was closely involved in Leeds' punishment of Zak Hardaker over a disciplinary breach.
McNamara has been widely criticised for how he has dealt with the latest off-field incident in England's World Cup campaign.
But he claims the England management staff were fully involved in the process to sanction the player.
"We have worked closely in conjunction with Leeds," he said.
England take on Fiji in their final Group A game on Saturday in Hull.
Hardaker was not part of the squad for England's opening two games against Australia and Ireland.
Last Saturday, prior to the Ireland game, McNamara initially responded to speculation that the Leeds player had been involved in a drunken brawl by claiming he was ill and then told a BBC interviewer that the media "are just making things up to try and disrupt my squad".
Two days later England announced Hardaker's withdrawal from the squad, citing "personal issues", but on Wednesday Leeds issued a statement revealing their player was in breach of the club's code of conduct for players.
The Rhinos fined Hardaker £2,500, issued a written warning and ordered him to report for pre-season training on 25 November.
But McNamara insisted the withdrawal of Hardaker, which followed the earlier expulsion of Gareth Hock for breaking an alcohol ban and failing to turn up for a recovery session, has not caused any disruption to his preparations for the Fiji match.
"I said earlier in the week that, as a coach you have to deal with various situations, whatever arise," he said. "That's been dealt with.
"Unfortunately [Hardaker] couldn't reach the standards that were set within the group. In conjunction with Leeds, the matter has been dealt with."
For Saturday's game McNamara has recalled hooker Michael McIlorum, who was thought to be one of the players involved in the original disciplinary breach featuring Hock, but McNamara remained tight-lipped.
"It's a question that is irrelevant to answer at this stage," McNamara said.