Rugby League World Cup 2013: Sheens bemoans lack of support
Last updated on .From the section Rugby League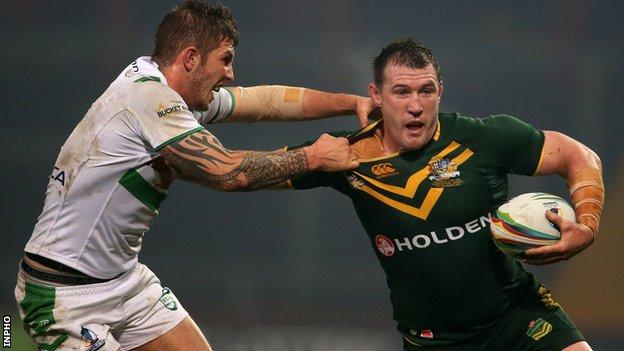 Australia coach Tim Sheens bemoaned the lack of Irish support at Saturday's Rugby League World Cup Group A game, which his side comfortably won 50-0.
A crowd of 5,021 showed up to witness the one-sided game at Thomond Park, Limerick, firm rugby union territory.
Meanwhile at the Aviva Stadium, 42,000 people watched the Ireland rugby union side defeat Samoa 40-9.
"It's a shame everyone went to Dublin. It would have been nice to get a nice night with a few more people," he said.
The game was heralded as a landmark one for Irish rugby league, seeing as it was held in the heart of rugby union country, where Munster play their home games.
The attendance was a record for the sport in Ireland - but not all were impressed.
One Irish reporter put it to Sheens that his side had played a game in which they did not have to try, but the coach was having none of it.
"They broke a sweat, don't you worry," he said.
"The key for us was to get no injuries so we have achieved what we did."
Aside from allowing them to plant their flag in Limerick, the evening served only for Ireland to conclude a winless campaign.
They have been nilled in two of their three games - this clash and against England - and rarely got in Australia's 20-metre zone.
Coach Mark Aston had told them to live the dream on the eve of the game, but in reality it was more of a nightmare.
"It was always going to be tough. We were playing high-quality opposition," he said.
"But I'm proud of what we served up. They had double the sets we had and the penalty count played a big part.
"It's hard enough playing the best in the world without not getting the bounce of the ball and the rub of the green.
"But we stuck in, had a dig and showed character."
Aston has previously voiced his frustrations about a lack of players to select from and with the chance a number of his older charges could now retire from the international game, the pool may get shallower still.
The coach is remaining upbeat, though, and insists he will continue to find a solution.
"We'd like a level playing field and we only got together three Saturdays ago," he said.
"There are 48 development officers for rugby union in this area alone. How can we get them to play rugby league? But we will be smart and do what we can."