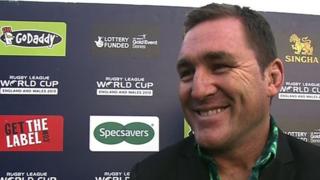 Reporter fluffs post-match interview
After leading his side to their first win at the Rugby League World Cup, Cook Islands head coach David Fairleigh is surprised by an unusual line of questioning during his post-match interview.
The Cook Islands resisted a strong second-half fight back by Wales to seal an impressive 24-28 win.
But in all the excitement of a tense finish at The Gnoll, the reporter conducting enquiries manages to fluff the big question.