Jamie Peacock column: Name Man of Steel after Steve Prescott
Last updated on .From the section Rugby League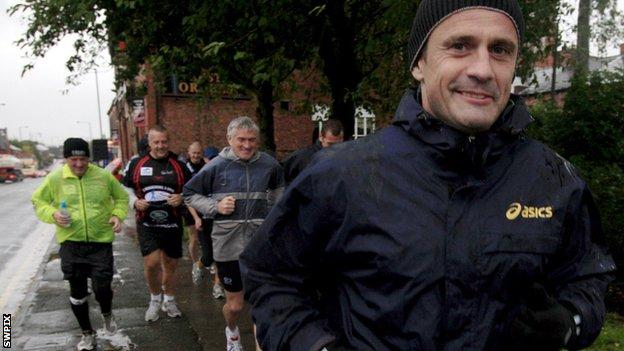 Former England and Great Britain captain Jamie Peacock is part of the BBC Sport team covering the Rugby League World Cup. Jamie explains why he wants the Man of Steel award renamed after the late Steve Prescott and lifts the lid on the mood in the England camp.
There seems to be a groundswell of opinion in favour of this and I think it is time that the authorities who run the game realise that it is owned and cared for as much by the people who support it as those that govern it.
We already have The Mike Gregory Spirit of Rugby League Award and we should definitely recognise one of the great ambassadors of the modern game.
The amount of money that Steve raised through the Steve Prescott Foundation after he was diagnosed with cancer, the deeds he took on and the very fact he survived seven years after he had been told he had months to live all tell you so much about him as a person. He became an inspiration beyond rugby.
Steve decided that the mind would rule the body and was a great, humble and courageous man.
The news that he had passed away reached the KC Stadium in Hull hours before England played Fiji in the World Cup.
I thought it was somehow appropriate that, when the news broke, the rugby league community was together in a city where Steve had played.
It summed up the way people felt about him that the minute's silence turned into a minute's applause.
England feeling calm and confident
As part of my Masters degree in sports administration, I have an internship with the Rugby Football League, dealing with their strategic planning for the period from 2014 to 2017.
The intention is to make sure that the RFL does all it can to give England the edge at the 2017 World Cup.
This could involve sports science, where to invest the available funds, tactical planning, genetic profiling and how to make sure players in the England Knights squad progress to the senior team.
As part of these duties, I attended a three-and-a-half-hour meeting on Monday in Loughborough, where the England team are based.
It gave me the chance to observe and chat with the England players and pick up a sense of how they are feeling.
I've been around squads for 17 years and captained a few of them. I've learned to pick up on different behaviours and the little parts of people's body language that tells you how they are feeling. It is the sort of thing I've always been interested in - it is part of the reason I like airports so much, as I get the chance to watch masses of humanity interacting.
It seemed obvious to me that the England boys are feeling relaxed and quietly confident about what they can achieve at the World Cup.
Nobody seemed down and everyone looked comfortable in each other's company. Skipper Kevin Sinfield told me that it helped that everyone had got a game.
You've got to remember that if someone is in the England squad, then they're probably a big star for their club and play every week. To then be sitting around for weeks with their national team, training but not playing, can be difficult.
Playing in patches
It seems to have been one of the themes of the World Cup that the big three of Australia, New Zealand and England have played their best stuff in 20-minute bursts.
The Kiwis did it against Samoa and Papua New Guinea, and Australia did it either side of the break against England, who in turn scored points in short bursts against Ireland and Fiji.
There have been patches when England have been unplayable. But if they want to win the World Cup, they will need to extend that.
One 20-minute period would perhaps need to become two, with the other 40 at a very high standard.
Putting on 18 to 22 points against a lesser team during a period when England have all the possession and territory is one thing. Against a top side, it might only be six to 12 points.
The good thing for England coach Steve McNamara is that he has real competition for places in his squad. He can tell his players he is looking for those who can maintain that nine out of 10 level the longest.
The huge prize of Wembley
I expect England to win their quarter-final against France on Saturday - and there should be no shortage of motivation for their players.
I was asked to present the jerseys to the England players before the 42-0 win over Ireland and spoke to them about motivation ahead of a fixture you're expected to win easily.
I explained that playing for England or Great Britain was such a huge honour that I never lacked enthusiasm - whether we played Australia or the Dog and Gun second XIII, it was all the same to me. I was doing something that I had dreamed about as a youngster and I did not need any more motivation.
But even if simply pulling on the shirt is not enough for some players, the prize of a World Cup semi-final in front of a huge crowd at Wembley must be.
It is a once-in-a-lifetime opportunity - especially for those from Fiji and Samoa.
I expect comfortable wins for England, Australia and New Zealand - The most exciting quarter-final match will be between Fiji and Samoa, a game that will be littered with an intoxicating mix of brutally physical confrontations and high-end athletic skill.