Rugby League World Cup 2013: Pundits on 'best ever' World Cup
Last updated on .From the section Rugby League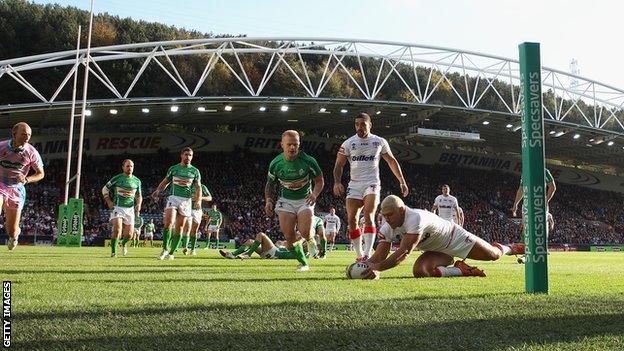 The 2013 Rugby League World Cup is shaping up to be a success on and off the field.
Big crowds have watched exciting games at a variety of venues - across England, Wales, Ireland and France - with several surprises along the way.
The quarter-finals start on Friday, with holders New Zealand taking on Scotland before England meet France the following day.
Australia face the USA earlier on Saturday, with South Pacific neighbours Samoa and Fiji meeting on Sunday.
Here commentator Dave Woods, Salford coach Brian Noble, former New Zealand international Robbie Hunter-Paul and Eorl Crabtree, of Huddersfield Giants, give their verdicts on the competition so far.
What has been the best part of the tournament?
Woods: "The fact that it has been so unexpected - and that has been a real delight. Someone said the whole tournament took off on the second day, in the 52nd minute of the New Zealand v Samoa game in Warrington, when Samoa started to fight back and the crowd got behind them. That set it all up and the whole thing has gathered momentum from then. People are looking at it and wanting to be part of it. Who would have thought we would be entertained by teams like the United States and Scotland?"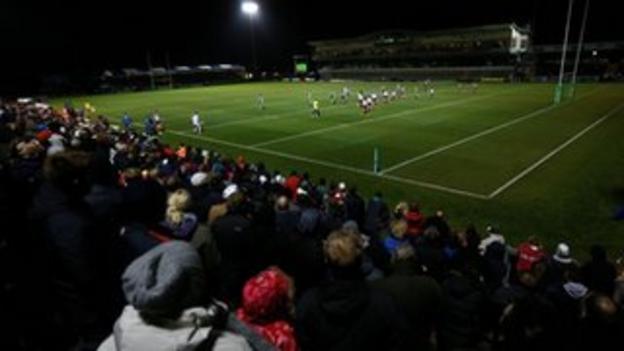 Crabtree: "The crowds. Making sure we get people at the tournament in numbers is something we have been striving towards for a long time. It is our opportunity as a sport to raise our profile and I think we have done that so far. We are managing to get people into stadiums that we wouldn't usually expect to, like Bristol and abroad. Everyone has jumped on board and bought into the tournament."
Hunter-Paul: "The nature of the competiveness. The organisers have done a fantastic job of seeding everybody in the right place. Obviously you have the big three teams - Australia, New Zealand and England - who have the potential to blow anyone off the park, but for the most part it has been very competitive and very entertaining. The big three can sometimes run the risk of being a little bit boring because they are that good. But with other teams there is a bit more flair and less discipline, which sometimes can make for a better spectacle. And that's what we have experienced."
Noble: "You could pick any one of 10 points. The players and fans have really bought into it and everyone has seen great fare. What ignited the tournament was the New Zealand v Samoa game. The second half of that showcased everything that is great in rugby league and everyone else has picked up the baton from there. There have been so many positives that it is hard to mention just one. But my highlight was New Zealand v Samoa. Also, the Pacific Islanders have added their own flavour with the varying war-dances and hymns. The whole thing has grown and everyone is loving it."
What has been the biggest disappointment?
Woods: "I was hoping Wales would get through to the quarter-finals. I have a lot of time for Wales coach Iestyn Harris, who is a top bloke and a really good coach. The fact they lost all three of their group games is a disappointment."
Crabtree: "The off-field issues that have affected the England camp - Zak Hardaker getting into a bit of bother, James Graham missing out too and Gareth Hock being kicked out - and more so, the way they were dealt with. I'm trying not to be too negative but what happened in the first couple of weeks was disappointing. But, saying that, they have moved on and are going in right direction. What they have done is turn it around and that's testimony to the type of players they have in the squad."
Hunter-Paul: "When you looked at the teams on paper you thought that it was a pool that Wales should have won. But they have under-delivered. I think a lot of their fire was put out in their opening game against Italy. Psychologically I don't think they recovered from that. After Italy beat England in a pre-tournament warm-up, they might have thought, 'If they can beat England then what chance have we got?' There were times when they were in full control against the Italians but couldn't move forward. They have been the tournament's underperformers."
Noble: "There hasn't been any disappointments for me. I think anybody who has watched any of the games will have taken something from it. The camaraderie on and off the field has been exemplary and it showcases the game of rugby league in the right manner. It also shows every player, wherever they come from, has pride in their jersey."
What has been the biggest surprise?
Woods: "The player who has caught my eye is the USA scrum-half Craig Priestly. He is a personal trainer in New York and runs his own rugby league club. We've seen his half-back partner Joseph Paulo at Parramatta so we knew what he could do, but we knew little or nothing about Priestly before the tournament started. His toughness makes him an eye-catching player and a real good player and tough in defence."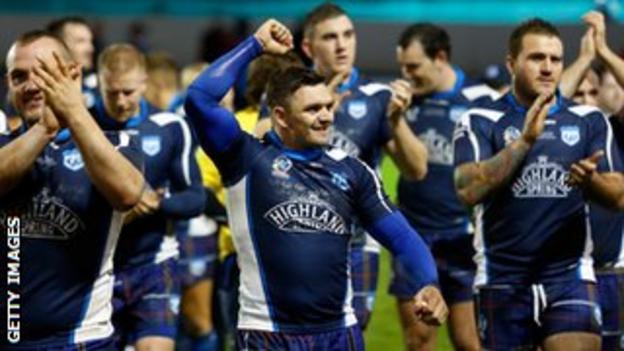 Crabtree: "It's the two obvious ones - the success of Scotland and the USA. Both teams have been tremendous value and I didn't think they would do as well as they have done. Scotland have been sensational - led by my Huddersfield captain Danny Brough - and after seeing them against the USA they thoroughly deserve to be in the quarter-finals. I think they will go all right against New Zealand in the last eight because they have got players who will put their bodies on the line. But it will be a tough ask for them to beat the defending champions."
Hunter-Paul: "George Burgess's performance for England in the opening game against Australia. After 20 minutes of the 21-year-old going at them, the Aussies were fed up with him. He was punching holes in their line time and time again. That was a surprise to me. That was his debut at that level and going into the game I thought he would probably be a little naive, but he grabbed his opportunity with both hands."
Noble: "Tonga not being in the last eight and the form of Scotland were shocks. But the biggest surprise of all for me was the success of Italy and the USA. The USA playing Australia in the quarter finals - who would have believed that before the tournament? I suppose the form of Wales was surprising too - you would have expected them to get out of their group. If Wales coach Iestyn Harris was honest, he would have been quietly confident of reaching the quarter-finals after seeing the draw."
What about England?
Woods: "England have done their job well so far. A lot of people were worried before the Australia game because of what was going on behind the scenes. But they were solid against Australia and on another day could have won. They played some good stuff against Ireland and then against Fiji, after a tough first half, they did a job in the second half and it all bodes well. But bigger challenges lie ahead."
Crabtree: "England are getting better - now it is time for Steve McNamara to find out what his best squad is because he has had a little bit of a play around in the first three games. In the second half of the last game against Fiji they were sensational. The forwards dominated and the people coming off the bench lifted the game. They have got better and better as the tournament has gone on. And they have got more to come."
Hunter-Paul: "Their halves are growing together as the tournament goes on. Rangi Chase is taking the line on a lot more, plus he seems to have a bit more confidence and fluency with the players around him. I don't know if that is a matter of players learning how to play with Rangi, or Rangi knowing how to play with the guys around him and their strength and weaknesses. England showed against Fiji why they are one of the best three teams in the tournament and they have got better with every game. But I still think they are far from the finished article. And that's what the World Cup is all about - it's a tournament. It's better to build and create momentum going into the knockout phase."
Noble: "I think they have grown really well as the tournament has progressed. They have built well and look good. But the question that everybody is asking is, when the big games come around, who are they going to play? I think Steve McNamara knows his best team and the team he is going to put out when it matters. From now on, starting with the quarter-final against France, he has to play his best team. He has given everybody a run and everybody has shown their worth so he has some difficult selection problems - which is a good thing to have. But I'm sure he will know his best 17."
How are Australia and New Zealand looking?
Woods: "New Zealand are dangerous and are looking like tournament favourites. Their combinations are working well, they have the X-factor of Sonny Bill Williams, great wingers and they look well balanced and powerful. But they have only played weaker nations. Australia haven't hit top gear yet. They were rusty against England and haven't needed to be impressive in their other two games."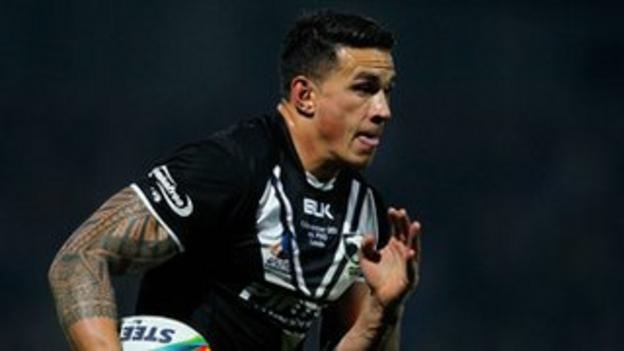 Crabtree: "I think it will be tough for England to win it - the Kiwis are right up there at the moment for me. But I wouldn't put money on it - it is going to be close. Australia are going to be favourites but the Kiwis are the standout team. They have been very tough, very aggressive and Sonny Bill Williams has been making all the headlines for the right reasons."
Hunter-Paul: "The Kiwis are far from the finished article but, out of big three, they have come together quicker than Australia and England. I still think Australia have got a lot to show us - which makes them uber-dangerous. They are still the favourites. They save their best until last and when it matters most."
Noble: "There are still some questions unanswered about Australia and New Zealand. Have Australia, who I don't think have been tested yet, had enough competitive games going into the semi-finals? Because they are the red-hot favourites against the USA and it will be the shock of all shocks if they were beaten by them and didn't reach the last four. And have New Zealand played well enough over the full 80 minutes? The first game against Samoa was a bash fest in the second half and after the break against Papua New Guinea too. So there are question marks over their second-half performances."
Is this the best World Cup ever?
Woods: "It has the potential to be. But what needs to happen is for the Rugby League International Federation (RLIF) to get hold of the international game and devise a proper international fixture list. We have seen great performances from the so-called lesser nations and they are bringing in big crowds. So we can't waste that and leave the likes of Italy, Wales, Scotland and the USA having no proper meaningful international games between now and the next World Cup."
Crabtree: "Without a doubt. The way we have gone about the tournament and tried to promote it has been excellent. People were maybe a bit negative before it but the gates have been impressive and there haven't been many blowouts in the games. We wanted a few upsets as well and that is what has happened. It has been really good but can only get better. The intensity will only increase in the knockout phase."
Hunter-Paul: "Yes. Easy answer. Purely and simply because it has captured the imagination of the public and been massively embraced by every single player. Every player and team wanted to play for their nation and you can see that in the performances they have delivered. There are teams out there that can't win and yet they are going out and leaving everything on the field. That makes such a difference in the spectacle that we watch and the crowds appreciate it."
Noble: "Obviously I can't speak about the tournaments that took place before the ones I have been privileged to see but, yes, I think it has been. It is full of good teams, good rugby, great crowds and it has celebrated everything that rugby league is fabulous for - the local community and people who love the game."