Danny Kirmond: Wakefield Trinity Wildcats hopeful captain will stay
Last updated on .From the section Rugby League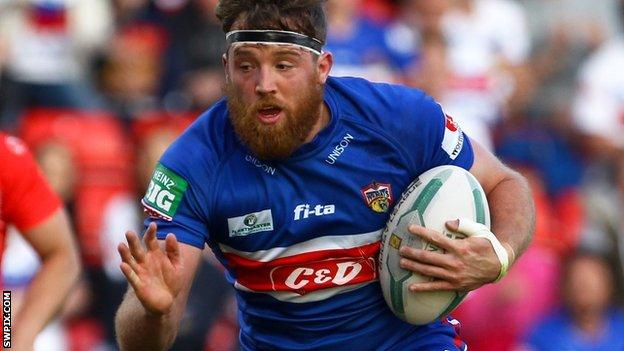 Wakefield Trinity Wildcats chairman Michael Carter is optimistic sought-after captain Danny Kirmond will still be at the club next season.
Carter has admitted turning down a substantial offer for the highly-rated second row forward last week.
He told BBC Radio Leeds: "Danny is as frustrated as we all are with how things have turned out.
"But he's proud to be captain of Wakefield and that's where I'd like to see him for the next 12 months."
Recent weeks have seen an exodus of players after the club admitted it had debts of £400,000, with prop Kyle Amor being sold to St Helens, hooker Paul Aiton to Leeds, and prop Justin Poore and winger Ben Cockayne both moving to Hull KR.
But Carter said the sales had lifted much of the financial pressure.
"I think we're in quite a good situation now - we've got rid of a lot of the legacy debt we were facing a couple of months ago," he continued. "With Ben [Cockayne] going we feel we don't need to sell anybody else.
"It's still difficult, there's still an amount of legacy debt we need to satisfy over the next 12 months, and I'd welcome any additional outside investment, but we're now at a point where we can draw a line and nobody else needs to go out and we're actively looking at players coming in.
"Last season Danny was one of the outstanding second row forwards in Super League, in a team that sometimes struggled. If I accepted an offer for him it would have to be silly money, and I haven't had that."
Carter added that the club was awaiting decisions on seven offers it had made to bring in new players.
"There may be a couple more on top of that, as long as we don't exceed our budget," he said. "We're under no illusions we face a massive battle to finish in the 12 next season, but we're not being held to ransom by anybody.
"Our message is players will get game time here, but if they put it in they'll get their just rewards from the fans.
"I share the fans' frustration, but it's a case of balancing the books while providing a competitive squad. We'll fight every inch to finish in the 12 and maintain a Super League club in Wakefield."