Jamie Peacock column: Why England v NZ is too close to call
Last updated on .From the section Rugby League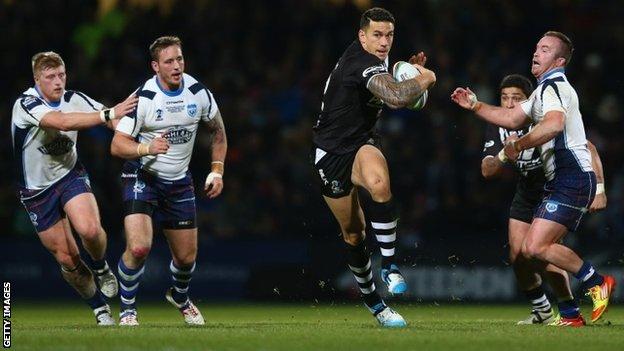 Former England and Great Britain captain Jamie Peacock is part of the BBC Sport team covering the Rugby League World Cup. Jamie looks ahead to Saturday's World Cup semi-final between England and New Zealand - and explains where the game will be won and lost.
England and New Zealand are so closely matched there is no doubt Saturday's semi-final between them will be the fixture of the World Cup so far.
The Kiwis are the slight favourites but I honestly cannot predict who will win the game. What I can do is explain why it is so very difficult to call and explain where the match will be won and lost.
The coaching staff - I have a lot of respect for the coaches of both teams. New Zealand's Stephen Kearney was in charge when they won the World Cup in 2008, while Steve McNamara is a former Bradford team-mate of mine who has done a great job in building England's identity. It's even-steven on this score - the only difference being the spelling of their forenames.
Generals on the park - I was at Headingley last Friday for New Zealand's 40-4 quarter-final win over Scotland and was extremely impressed with scrum-half Kieran Foran. You can tell he has been influenced by Australian great Andrew Johns. He is more like a grinding Aussie half-back than Benji Marshall, who captained the Kiwis in 2008 and is very much a flair player. Foran moves his team around the field very well and has great game sense, but England have an equivalent in Kevin Sinfield. We saw against France on Saturday how he can change the momentum of a match with his intelligent kicking game.
The enigmas - Here I am talking about the crowd-pleasers, the players who can do the unexpected. In terms of the Kiwis, I'm looking at full-back Kevin Locke and half-back Shaun Johnson, who have been so good on the back of the offloads that come their way from the massive New Zealand pack. England have full-back Sam Tomkins, who has been at the heart of many of McNamara's side's magical moments. These are players who can do the unexpected but remember, not everything pulled out of the ground that shines is a diamond.
Sam Burgess v Sonny Bill Williams - There are players who we like to call world-class but, for me, there is a category above that - what I like to call the generational players. I have played against some great ones from Australia such as Johns and Darren Lockyer. On Saturday, I think there will be one in each forward pack - England's Sam Burgess and Kiwi Sonny Bill Williams. They have gone head-to-head several times already this year for South Sydney Rabbitohs and Sydney Roosters in the NRL. Don't miss their match-up at Wembley.
The desire to win - I know Kearney a little bit from his time as a player with Hull. Last Friday I was asked to walk on to the pitch at Headingley with the World Cup trophy, which was a little embarrassing considering I never actually won it. Anyhow, as I picked it up in the tunnel, I just heard this voice say: "What are you doing with that? Get your hands off our trophy." It was Kearney - and although he was joking, there was undoubtedly a little hint of menace about him. As for England - if you're not motivated as the host nation playing in front of an estimated 70,000 at Wembley....
Confidence - I think both teams have a healthy respect for each other but firmly believe they can win the game. When England play Australia, I sometimes think that self-belief is an issue - but this does not apply against the Kiwis. England defeated them in crucial Four Nations fixtures in 2009 and 2011. Some of the England players from those matches will figure on Saturday and know how to win tight, important games against New Zealand.
Keeping it simple - If England keep coughing up the ball like they did against France, then New Zealand will win comfortably. Similarly, if they do not get three people into plenty of tackles, then Kiwi hooker Issac Luke will have a field day on the back of quick play-the-balls from his huge forwards. Putting people in the tackle rarely wins you a round of applause, but it can win you matches. Saturday will be about looking after the ball, doing the unglamorous but industrious stuff well - completing sets, followed by a good kick and chase; building pressure.
I expect both teams will score four or five tries, simply because there will be so much attacking flair on the pitch.
Who will win? Let me leave you with a quote from Irish dramatist George Bernard Shaw - I think the answer to the question lies within it.
"The reasonable man adapts himself to the conditions that surround him," said Shaw. "The unreasonable man adapts surrounding conditions to himself. All progress depends on the unreasonable man."