Steve McNamara handled problems well, says Adrian Morley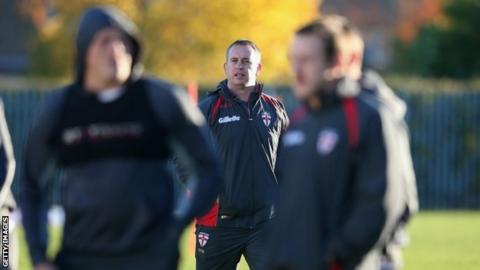 England coach Steve McNamara "handled his side's problems well" during the World Cup, according to former international Adrian Morley.
The campaign was in disarray early on as Gareth Hock was thrown out of the squad,McNamara cut short a news conference and Zac Hardaker pulled out.
"I am on his side. When players act up, the boss needs to put his foot down and make a statement," said Morley.
McNamara is out of contract and it is not known if he will sign a new deal.
The former Bradford coach said after the semi-final defeat by New Zealand that he was "not sure" if he intended to carry on in the job and has been linked with a coaching role at National Rugby League (NRL) champions Sydney Roosters.
The national team's preparations for the tournament suffered a setback a week before it started when they lost 14-15 to Italy on 19 October.
Three days later, Hock, who has signed for Salford, was dismissed following serious breaches of team discipline, which the forward felt "was a bit harsh".
The problems continued when McNamara walked out during a media conference on the eve of the tournament after refusing to discuss the disciplinary issues in the squad.
Full-back Hardaker later withdrew because of personal issues for which he was subsequently fined by his club Leeds Rhinos.
Morley, who will captain Salford this season, feels McNamara made the correct decisions for the benefit of his side.
"McNamara didn't get too much help from his own players," Morley, 36, told BBC Sport. "Unfortunately, he had to take action and in a World Cup, you shouldn't get players stepping out of line.
"He handled the problems well and wasn't given much choice on the matter.
"Some of it became public knowledge and they should have kept it in-house but that is the nature of the tournament when you are under scrutiny."
McNamara surprisingly dropped half-back Rangi Chase for the last-four clash against the Kiwis.
Morley says not selecting the former Castleford man - who has also signed for Salford - led to a fallout between the pair.
"I have spoken to Rangi and he says there was a case of misunderstanding between himself and Steve," added the former England and Warrington prop.
"Rangi is a team player and he felt that if Steve said 'I am not going with you, I am going with Gareth Widdop' he would have taken it on the chin, but he claims Steve gave him a reason that wasn't valid.
"I have no problems playing with him and he will be fantastic for the club. There is no epidemic of trouble and misdemeanours."