James Roby: NRL move did not interest St Helens hooker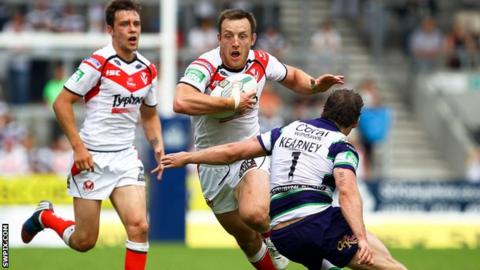 James Roby says playing in Australia's National Rugby League was not something that appealed to him after deciding to extend his stay with St Helens.
England hooker Roby has with Saints, who have also awarded him a testimonial.
The 28-year-old said: "I've not got to prove anything to anyone in my eyes.
"There are a lot of positives about going to live in Australia but I've never had a burning desire to go and play down there."
Roby, Super League's Man of Steel in 2007, has spent his entire career with St Helens and played for England during last month's World Cup.
Several of his international team-mates, including close friend and former Saints colleague James Graham, have in recent seasons but Roby is more than content with his choice to stay in Super League.
"'Jammer' is loving it over there, living near the beach and living the Aussie lifestyle," he told BBC Radio Merseyside.
"I'm happy where I am. I've got the love for the club that I've had from growing up in the town and I'm more than happy to, maybe, see out my career at St Helens," added Roby, who missed much of the 2013 season with
"I'm married with two kids - and the kids are settled in school. You've got to take a lot of other things into account as well. Ultimately it was a family decision and we decided [staying at] Saints was the right decision for us, but deep down I probably knew that I was never going to leave."
St Helens will play double winners Wigan in Roby's testimonial at Langtree Park on Friday, 31 January.