Paul Wellens: Jonny Lomax deserves number one shirt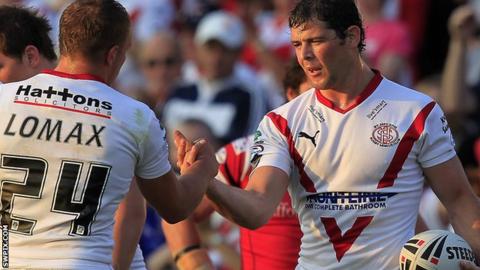 St Helens full-back Paul Wellens says he bears no grudges towards team-mate Jonny Lomax, who has been given the number one shirt for the 2014 season.
Wellens, 33, held the jersey for over a decade and has instead been handed the number 17 by coach Nathan Brown.
He told BBC Radio Merseyside: "If I was going to pass that shirt to anyone, I'd like it to be someone like him.
"He is a good, hard-working young lad who has come through the system and has the club very much at heart."
Wellens has been at the club throughout his career, progressing through the youth system before making his debut in 1998 and passed 400 Super League appearances in August against Catalan Dragons.
And despite his advancing years, the former Great Britain and England international feels he is still a key player at his hometown club.
"I wore the number 17 shirt in 2000 so if it was good for me then, it is certainly good for me now," he said.
"I have had numerous conversations with Nathan Brown over the last 12-18 months and have a great relationship with him.
"I know what my role is at the club, I am one of the senior players in the squad, in terms of experience and age, so I have a huge part to play."
Wellens also praised the quality of Saints' academy and complimented 19-year-old centre Mark Percival, who was one of several youngsters to
He added: "There are a number of young players at the club and they will get a good pre-season here and they have a good chance of playing rugby for the club.
"We saw Mark in glimpses last season and he is someone who really excites me, a natural player with the ball and he is destined for big things."