Sean Long: London Broncos off-field struggles could help side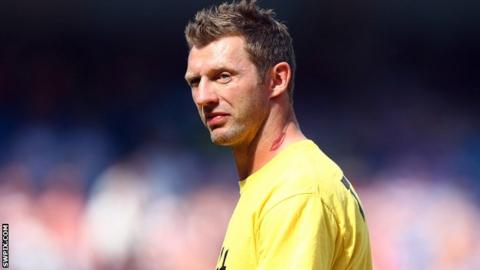 New London Broncos assistant coach Sean Long believes their struggles off the pitch could create a strong bond at the Super League side after he agreed a 12-month contract with the club.
The Broncos came close to entering administration last month before agreeing a groundshare with Barnet FC.
"It's been quite strange but I went into a similar situation with Salford last year," Long told BBC London 94.9.
"It's not easy but it makes you come closer together as a unit."
He added: "It's those memories that will get you through."
The Broncos saw a raft of first-team players leave the club in the off-season and are still recruiting ahead of their Super League opener away to Widnes Vikings on 16 February.
The Broncos have not announced any new signings but former Great Britain international Long has seen potential in their emerging squad.
"We've been training 10 or 11 boys for the last few weeks," the 37-year-old said.
"Probably half of those are going to play this year, if not more, once we've added to the squad. They will be starting players.
"They're pure-bred athletes; they can sprint, they're very powerful and it's my job to coach them into rugby players.
"If we can put a nice blend of players in with about four or five local London boys, they wouldn't be out of place at all.
"We're making some good signings which you'll start to hear about. Once the team starts coming together, local boys will get a chance and fit in rather nicely.
"Everyone's written us off straight away so we might surprise a few people."
Long says the club are keen to recruit players who have the drive to help the club succeed on and off the pitch.
"Before some people have maybe come over for the money," he said.
"We want players to come here wanting to make a name for themselves; whether from up north, Australia or New Zealand.
"We don't want them to come, take the pay cheque and run off. We want them to come work for the club and one another and create a good environment.
"The best players aren't always the well-known ones. They're the hard workers and that's who we need - the lads who are going to work for 80 minutes and push for each other, in the trenches."
Former Wigan, St Helens and Hull FC scrum-half Long retired in August 2011, following two injury-plagued years.
He then began his coaching career at Salford City Reds, where he spent 18 months before resigning in April last year.
He then had a three-month spell with Wigan Warriors and subsequently joined Featherstone Rovers as football manager until the end of last season.
"I felt there was an opportunity for myself and for London," he said.
"It works both ways; for the side to get back up the ladder where we should, and for me to prolong my coaching career.
"It is an ideal opportunity for both parties. If I do well with my coaching career, the boys can do well."
Long is also keen to play his part in promoting the game in the capital.
"Since I've been down here, [Broncos head coach] Tony Rea said to me 'one day you'll just get it', as he's so passionate about the game here," Long said.
"It's probably in the last two or three weeks that I've 'got it' - everyone else is against us and we're down here on our own.
"The odds are against us, but I do get it - I feel like it's us against them, but I like it.
"I'm no marketing guru but we need to get the name out. We are in London and billboards should be blasting the name out.
"It's a goldmine down here.
"Moving to a new ground is vital for us and getting a new fanbase, I think it will all come together."