Bradford Bulls: Cummins hopeful on squad retention
Last updated on .From the section Rugby League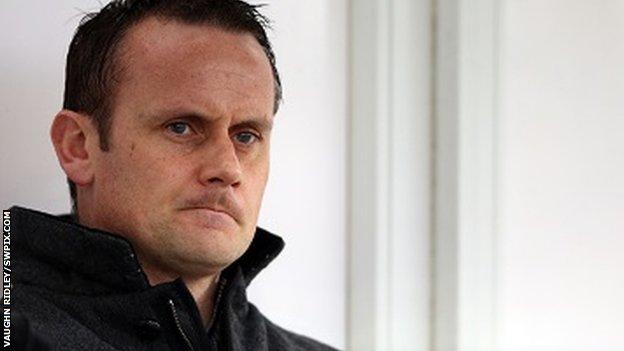 Bradford Bulls head coach Francis Cummins says he is optimistic on retaining many of his players before the start of the Super League season as the club battles financial problems.
"We've had offers from a club for a couple of players but they don't want to go," Cummins told BBC Radio Leeds.
"You have to have the mindset of preparing the best you can."
With the first pre-season friendly less than two weeks away, Cummins said he hopes to have all 25 current members of his squad available by the time Bradford are scheduled to play Castleford Tigers in the opening Super League fixture on 16 February.
However, that could depend on whether he is required to make further savings from the playing budget.
"We couldn't do any more to the players, they've been paid late, they don't know what's happening next week, there's a chance the club could disappear, but they don't want to go, so that shows something very, very good is happening here," said Cummins.
"At the moment we have a great environment, the players have been tremendous throughout this.
"We have four or five members of staff working their notice, they could have taken gardening leave but they haven't, and the way we've trained is the best since I've been in charge.
"The players have improved massively, looking at them physically they're in great shape and we're doing some really good stuff."
But Cummins acknowledged the on-going uncertainty off the field had had an impact.
"We've had our moments, but generally had them away from the club. Christmas was the hardest part, when the directors resigned on Christmas Eve when we were on holiday, so we had no information on what was going on. The pressures on wives, girlfriends and families, as well as the players themselves, is the tough bit."
Chairman Mark Moore and directors Ian Watt and Andrew Calvert have since returned pending final agreement over the club's ownership.
"Once we're in here we're fine, the lads are too tired to think about anything else half the time," said Cummins.
"But the atmosphere has been good, everybody has been pulling together and we'll improve on last year, there's no doubt about that.
"I'm not talking about the league table, we'll be better individuals and will punch above our weight again - but we just don't know what shape we'll be with the numbers and staff-wise when we get started."