Super League: Salford's Marwan Koukash wants growth
Last updated on .From the section Rugby League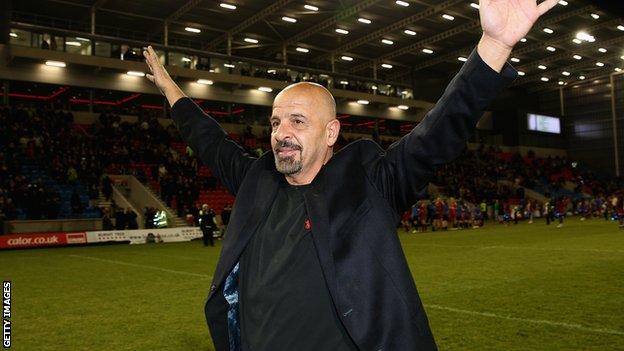 Salford Red Devils owner Dr Marwan Koukash hopes the meeting of Super League clubs this week will help to improve the exposure of the game.
The 14 sides will get together to discuss the RFL's planned restructure of the domestic game.
"Over the last three, four years, the Super League has not grown," Koukash told BBC North West Tonight.
"There is something not working there and when that happens, it needs change. The changes need to be as radical."
The sport's governing body have proposed a new format for the 2015 season of two divisions of 12, splitting into three of eight after 23 rounds.
An extraordinary general meeting was postponed in October, while six clubs, led by Wigan chairman Ian Lenagan, walked out of a second meeting.
Koukash feels more power needs to be given to club owners, who have "fantastic ideas" that need to be implemented.
"As a group of clubs, we are the Super League and we should have a great say on how things are run," he said.
"It should be us deciding what the salary cap is, not for it to be dictated to us.
"More importantly, Super League is full of commercial talent, businessmen who have succeeded in business and are succeeding in Super League."
Racehorse owner Koukash has overhauled the side - who finished bottom of the division last season - by bringing in 14 new players, including England international Rangi Chase, Adrian Morley and Harrison Hansen.
The Kuwaiti-born businessman bought Salford in January 2013 and has confirmed he is now in talks to take over cash-strapped Championship side Swinton Lions, saying the close proximity of the clubs will be beneficial to both.
"It has always been by ambition to make Salford a great rugby league town and taking over Swinton will help me achieve that aim," he added.
"When we started discussions with the current owners and the council, I have always said we need to build a home in the heart of the Swinton area.
"Swinton will compete at the highest level in their own division but who knows, one day we might have two Super League teams in the town.
"If Manchester United and Manchester City can play football in one city, so could Swinton and Salford in Super League."