Super League: Competition restructures confirmed
Last updated on .From the section Rugby League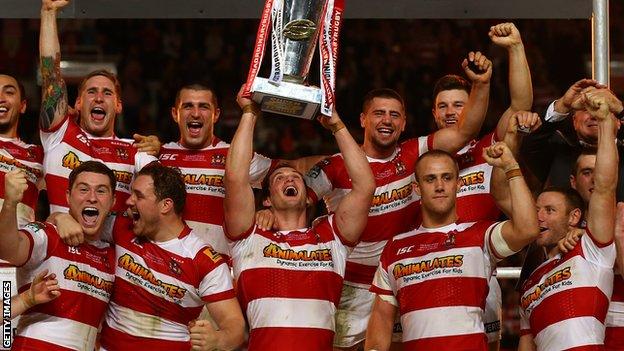 The Rugby Football League has announced that the top two divisions are to run with 12-team leagues, splitting to three groups of eight, from 2015.
The changes mean a return to relegation from the top flight for the first time since 2009.
It had been announced in July that Super League was to be cut from 14 to 12 teams after this season.
The restructure proposal was voted in unanimously by the 14 Super League clubs at a meeting in St Helens.
BBC Sport understands that all 12 teams in both the Super League and Championship will play each other twice before the league breaks into three groups of eight.
From there a team will play every other in its league of eight once, with teams in the top and bottom group retaining their points from the first part of the season and those in the middle group starting from zero.
As yet no format for how play-offs will work has been announced and Magic Weekend is set to continue.
Super League chairman Brian Barwick said: "I would like to thank the clubs for their contribution to what was a very fruitful and positive meeting.
"The clubs were unanimous in their view that Super League should become a 12-team competition from 2015 and that there should be meaningful movement between Super League and the Championship.
"There was a full and frank debate about the competition structures and a commitment to support the proposed format.
"The Super League clubs' decision will now go before the RFL's independent board of directors for ratification next week."
Full details of how the new-look competition will play out are set to be confirmed later this month.
This year's Super League campaign starts with Huddersfield visiting Grand Final winners Wigan on Friday, 7 February.