Salford Red Devils coach Brian Noble unfazed by pressure
By Shamoon Hafez
BBC Sport
Last updated on .From the section Rugby League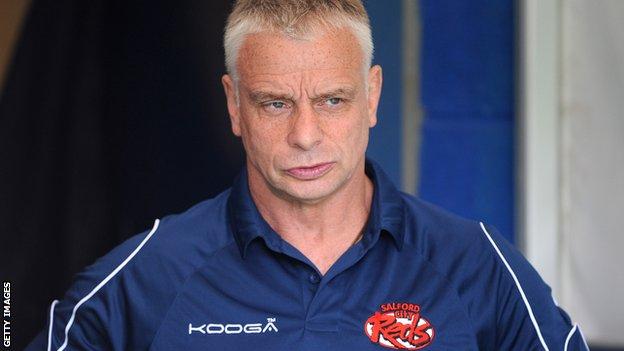 Salford Red Devils head coach Brian Noble says he is unfazed by the burden of expectations at the club.
"I don't worry about the pressure I am under, the whole team is under scrutiny," Noble told BBC Sport.
"We know our challenge after finishing bottom last year but I am confident we won't finish bottom in 2014."
The side returned to England on Tuesday following an altitude training camp in South Africa, which provided an opportunity to integrate the new players with the rest of the squad.
Having finished bottom of the Super League table last season, former Bradford and Wigan coach Noble says he is confident his new-look side can have a successful season.
"It has to be one of our aims to break into the top teams," said Noble.
"Not disrespecting the other 13 teams, because they have all the right to be successful as we have, but we need to find reasons why we are better than them.
"Only four teams have ever won Super League and so it is a difficult club to break in to.
"That doesn't stop our resolve and determination to do well this year."
While the club were in Africa, the Rugby Football League announced a restructure to the two divisions starting from the 2015 season, with the re-introduction of promotion and relegation.
Bradford Bulls coach Francis Cummins has called the plans "rubbish", while Wigan coach Shane Wane said he is unsure it will improve the competition.
But former Great Britain coach Noble supports the decision, even though he feels the current system is working.
"Promotion and relegation has been on people's cards for a long time but I am not sure the franchising system has failed," said the 52-year-old.
"I have not seen any evidence as to why promotion and relegation will make it any better.
"However, we have to get behind whatever the RFL have decided to do to make the game better.
"We have to find ways of bringing more finances into the game and if it does that then good."
Salford's first Super League fixture of the season comes against Wakefield at the AJ Bell Stadium on Sunday, 16 February.