Brian McDermott: Rugby league can prosper in London
Last updated on .From the section Rugby League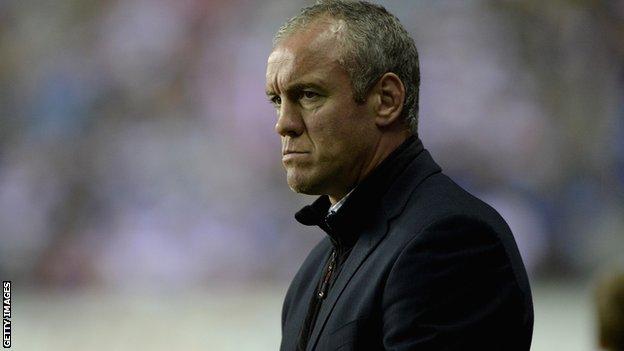 Leeds Rhinos head coach Brian McDermott says rugby league must be given a chance to flourish in London.
"I am still a believer in London and that it can work," McDermott told BBC London 94.9.
"The sport in London is not the problem. It is just the professional team has never been quite cracked."
London's rugby league side has gone through various guises since Fulham Rugby League Club was founded in 1980.
The side has had four name changes and played at various venues across the capital, with Craven Cottage, The Valley, Griffin Park and Twickenham Stoop among their longer-term homes.
London Broncos came close to entering administration at the end of last season, but the club eventually agreed a two-year ground share with Barnet FC, guaranteeing top level rugby league in 2014.
Despite the struggles of the professional side, McDermott says the sport needs a presence in the south in order to continue growing.
"After being down in London for six months, I just knew that if the game wants to go massive then it has to be through London and through one big city," he said.
"It would be easy to brush off rugby league in London because of what has gone on with the professional team for the last few years.
"It irks me when people write off London because of that. The potential London has is scary.
"Anybody who has known the plight of the London professional team over the last 30 years would know that it has had its ups and downs."
McDermott, who has won two Super League titles and the World Club Challenge since joining Leeds, believes two factors are holding back the Broncos from further development: the strength of their squad and the fact that success would breed further interest in the sport.
"I think it comes down to the quality of the squads," he said.
"London, as a club and a city, has to abide by all the rules and regulations to recruit players as the northern clubs do.
"Northern clubs can breed their own players and it is easier.
"While London is producing players now, for them to produce a 25-man squad they might have to produce 20 London juniors with a smattering of northern blokes and overseas players.
"The interest is there. All fans can be fickle, but the infrastructure and foundations are there.
"You have got to win a few things before you start generating the big interest."
McDermott's Rhinos side face London Broncos in a pre-season friendly at Headingley on Friday evening.
With their off-field struggles over the close season and a new-look squad, the Broncos have been tipped for relegation - which has been reintroduced to Super League this season.
However, McDermott believes the Londoners are not necessarily certainties for the drop.
"Let's not fluff about, I think it is going to be a tough season for the Broncos," he said.
"I do know what [head coach] Tony Rea is about and they will come up with some wins this year."