Super League 2014: BBC Sport's club-by-club season preview
Last updated on .From the section Rugby League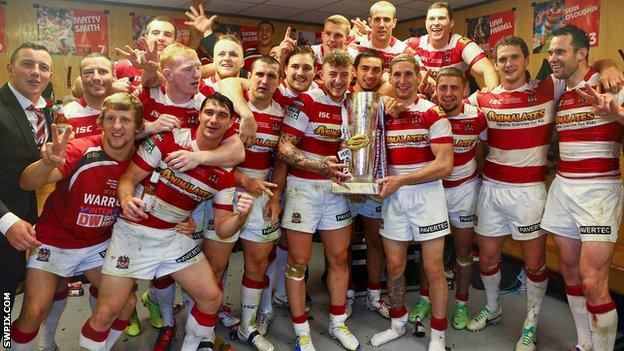 The 19th Super League season commences on Friday, with champions Wigan Warriors aiming to retain the trophy they won at Old Trafford in October and two sides set to experience the pain of relegation at the end of the campaign.
A restructure of the domestic game will take place in 2015, with the number of top-flight clubs being reduced from 14 to 12, and the licensing system that has been present since 2009 being replaced by automatic promotion and relegation.
The sport is desperate to build on the 2013 World Cup which, by common consensus, was successful in attracting a new audience to rugby league in the United Kingdom.
Shaun Wane's Wigan, who won Super League and the Challenge Cup last season, begin the defence of their title on Friday against Huddersfield Giants, who claimed the League Leaders' Shield by topping the league table for the first time in 81 years in 2013.
The Warriors have lost star players such as Sam Tomkins and Pat Richards to Australia's National Rugby League, while a new-look Warrington Wolves - beaten in each of the last two Grand Finals - will aim for honours once more.
Perennial challengers St Helens and Leeds Rhinos are also expected to be in the mix, while Hull FC will hope for better things under their new coach Lee Radford.
Salford Red Devils have invested significantly in their playing staff, England international Rangi Chase the most eye-catching of their new arrivals, while London Broncos,Bradford Bulls and Wakefield Trinity Wildcats will look to put their financial concerns behind them.
BBC Sport assesses each side's chances and selects the key men who could decide the destination of the Super League trophy in October.
BRADFORD BULLS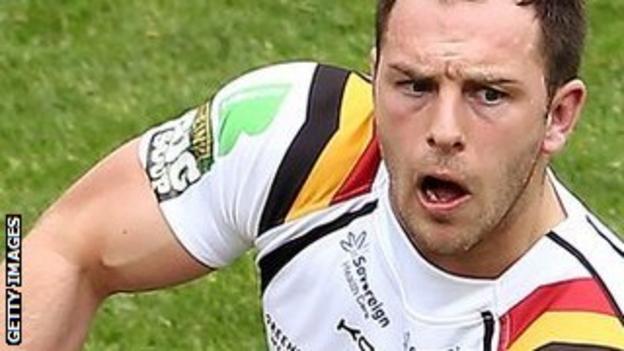 Last season: Super League final position - ninth; Challenge Cup - fifth round.
James Deighton, BBC Radio Leeds: "It is an absolute miracle that the Bulls have managed to retain the majority of their squad considering their financial crisis. Had this meltdown come three months earlier, when other clubs had money to spend, it would have undoubtedly been a very different story. There is an unbreakable spirit among the players which will serve them well. Coach Francis Cummins deserves a drama-free season and can feel confident of a top-eight finish."
Key player: Luke Gale. Courted by Hull FC, scrum-half Gale has the guile to unlock most defences and will revel in the role as vice-captain of the Bulls.
Biggest miss: John Bateman. The back-rower's move to Wigan was a loss for the Bulls though it was tempered by the astute signing of Dale Ferguson from Huddersfield.
CASTLEFORD TIGERS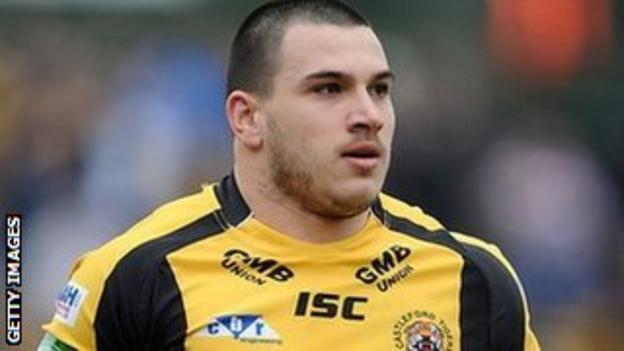 Last season: Super League final position - 12th; Challenge Cup - fourth round.
James Deighton, BBC Radio Leeds: "Despite the loss of Rangi Chase, the Tigers arguably have a stronger squad this season. The return of Andy Lynch and Luke Dorn will up the professionalism, and the signings of Brett Seymour and Liam Finn could prove to be priceless. In addition, Jake Webster will seem like a new player when he returns from injury. As always, if Castleford can keep their top 17 fit, they will fancy their play-off chances."
Key player: Justin Carney. 'The Beast' knows his way to the try line but also to Red Hall about on-field disciplinary matters. If the winger can clean up his act, he will help the Tigers roar in 2014.
Biggest miss: Rangi Chase. This will be the Tigers' first season without the 2011 Man of Steel, and while they will miss his silky skills at half-back, his departure will make them less predictable.
CATALAN DRAGONS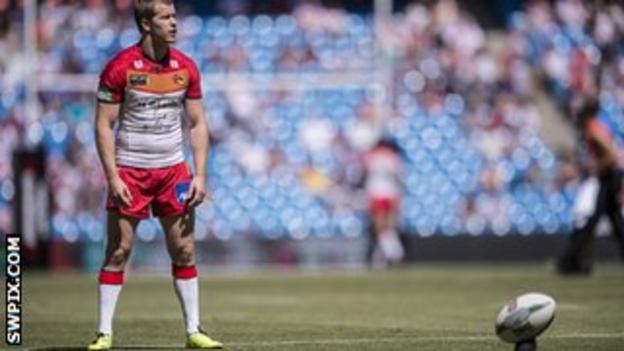 Last season: Super League final position - seventh, beaten in qualifying semi-final; Challenge Cup - quarter-final.
Matt Newsum, BBC Sport: "With a full season as head coach under his belt, this will be a big year for Laurent Frayssinous. He has lost Remi Casty to Sydney Roosters and Steve Menzies to retirement, but their recruitment has been decent, with Jeff Lima and Ben Pomeroy the stand-out arrivals. Hopes rest on a fit-again Scott Dureau to prompt them around the park, and the Dragons need full-back Morgan Escare to build on an impressive first season. Their home form must be better too, as last year saw five regular season defeats at the Stade Gilbert Brutus, compared to just two in 2012."
Key player: Scott Dureau. One thing the Dragons lacked in key games last season was the craft to go with their graft, and half-back Dureau, fully fit again after his health and injury problems, will provide that.
Biggest miss: Steve Menzies. The ageless second-rower was one of their stars last season, even at the ripe age of 39. His skill and versatility shone in what proved to be his final campaign. His retirement is a loss to Super League, not just the French club.
HUDDERSFIELD GIANTS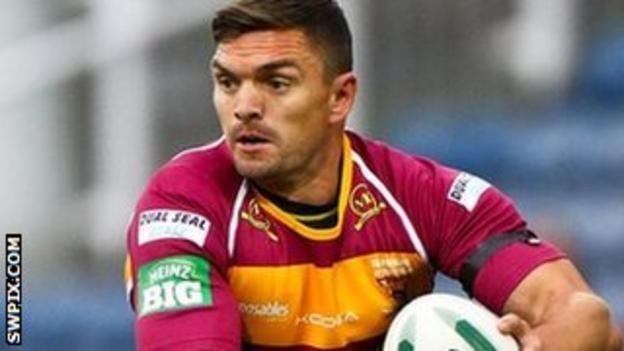 Last season: Super League final position - first, beaten in semi-final; Challenge Cup - quarter-final.
James Deighton, BBC Radio Leeds: "As winners of the League Leaders' Shield in 2013, Huddersfield will be aiming high again this season, though you sense they would be more than happy to swap that crown for one of the larger trophies. They have got every reason to feel confident with the signings of Antonio Kaufusi, Chris Bailey and Jodie Broughton, who should all excel within a better squad. Watch out for another big season from my radio wife, Eorl Crabtree, who will be looking to improve on his three tries in 2013."
Key player: Danny Brough. The half-back goes into the new season as the reigning Man of Steel. It will be tough for him to top his exploits of 2013 - but that will not stop him trying.
Biggest miss: Dale Ferguson. The back-rower played arguably his best rugby for the Giants once his switch to Bradford had been confirmed. It remains to be seen how Chris Bailey fills that gap.
HULL FC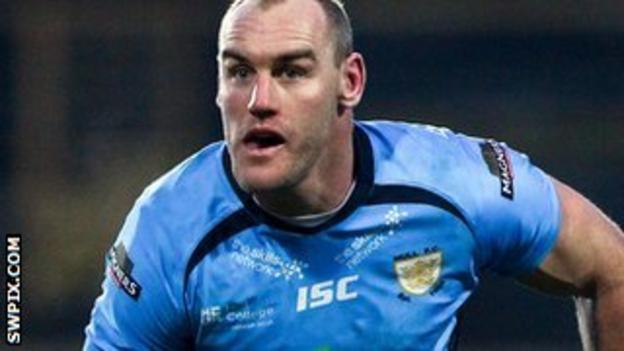 Last season: Super League final position - sixth, beaten in preliminary semi-final; Challenge Cup - runners-up.
Craig Murdock, BBC Radio Humberside: "This is a transitional season for Hull FC after completely overhauling their managerial personnel. New coach Lee Radford will demand respect and with his track record I think he will get it. They have got a nucleus of young players and even a lot of the so-called experienced players are only 24 or 25. I would be concerned if they got a few injuries and I would think the club will be happy as long as they finish in that top eight."
Key player: Gareth Ellis. Last year the second row did not really hit the heights that he or the club would have hoped for. But, after a good rest in the off-season, he could be really influential.
Biggest miss: Tom Briscoe. He is an international player and, at his best, he is one of the best wingers in the world. Impossible to replace.
HULL KR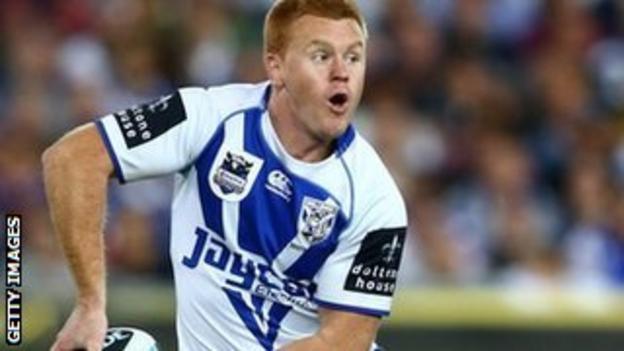 Last season: Super League final position - eighth, beaten in qualifying semi-final; Challenge Cup - fifth round.
Lee Richardson, BBC Radio Humberside: "Like every side, they will need luck with injuries. If they get that, they could challenge for the top six. A lot of people probably did not expect head coach Craig Sandercock to still be at the club after some shaky performances in the first two years, but it is a credit to the board that he is still in charge. He seems to have a different, more confident air about him and hopefully that is reflected in performances on the pitch."
Key player: Kris Keating. He has been brought in to replace Michael Dobson and obviously those are big shoes to fill at half-back because Dobson was pivotal to everything Rovers did. Keating's NRL experience should mean that he will give them a more rounded game.
Biggest miss: Michael Dobson. There were question marks over his defensive skills but there was no doubting what he did in an attacking sense. There has been quite a turnaround of players but I think the Robins have come out the other side with a much stronger group.
LEEDS RHINOS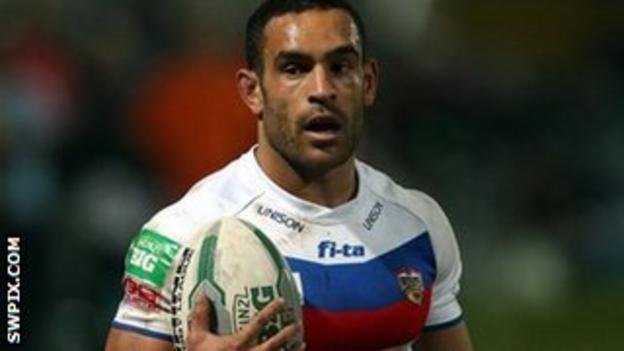 Last season: Super League final position - third, beaten in semi-final; Challenge Cup - fifth round.
James Deighton, BBC Radio Leeds: "Empty-handed in 2013, the Rhinos are a wounded animal and eager to make amends. The signings of Paul Aiton and Tom Briscoe add energy to an ageing but still able squad. Led by England skipper Kevin Sinfield, you would not bet against the Rhinos winning a trophy in 2014. How dearly they would love that to be the Challenge Cup, which has eluded them since 1999."
Key player: Paul Aiton. His arrival from Wakefield could prove to be one of the signings of 2014. A specialist hooker with a great attitude and as tough as old boots.
Biggest miss: Paul McShane. He never let Leeds down when he played, but the hooker's need for a regular spot has seen him leave Headingley for Wakefield.
LONDON BRONCOS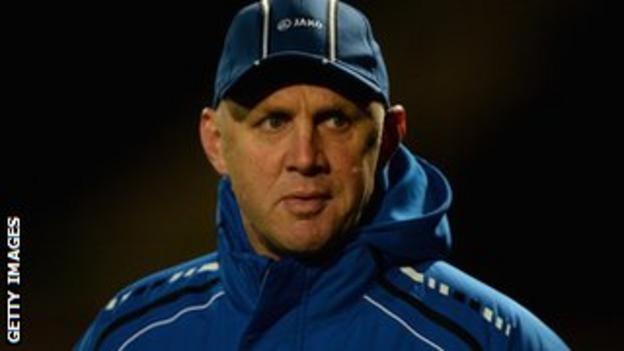 Last season: Super League final position - 13th; Challenge Cup - semi-final.
Ian Ramsdale, BBC London 94.9: "Every pundit has London Broncos down to finish bottom and be relegated. It is not hard to see why. Having narrowly avoided administration, retained just 12 players and recruited rapidly in the last two months, it is difficult to see how they will be truly competitive this year. I think their youth, energy and team spirit, as underdogs, will win them a few games this year. But untested as they are, avoiding the drop would please the realistic London fans."
Key player: Mike Bishay. The home-grown half-back only played eight games for the side last year. He is a smart player and still learning his trade, but with the changes the club has undergone, a lot of responsibility will fall on his shoulders this year, in what will be a young and relatively inexperienced team.
Biggest miss: Dan Sarginson. Another of London's impressive club-developed players looks set to flourish at Wigan. The half-back has been well drilled since arriving in the north, has bulked up by over seven kilograms and has impressed in the Warriors' pre-season fixtures. London will miss his speed, agility and creativity.
SALFORD RED DEVILS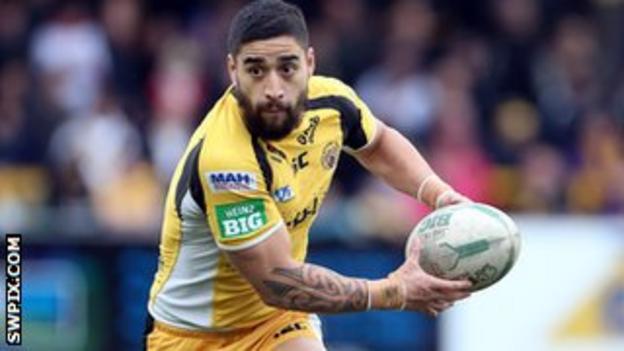 Last season: Super League final position - 14th; Challenge Cup - fifth round.
Jack Dearden, BBC Radio Manchester: "Salford will have their best season in recent history. Could that include winning silverware? That might possibly be just beyond them. However, given a favourable Challenge Cup draw, they are surely capable of going to Wembley. One thing is for sure - Salford will be no pushovers this season. While they appear to have recruited reasonably well, a lot could depend on their key players staying fit. Owner Dr Marwan Koukash is demanding a top-six finish as a minimum requirement. I would not want to be the person to explain to him why that did not happen."
Key player: Rangi Chase. It is all about the half-backs this season for the Red Devils. England international Chase and another new recruit, Tim Smith, can be an exciting partnership but only if the forward pack can dominate and provide the platform to give them possession. Chase has probably as much ability as any half-back in Super League. On a good day, he has got more magic than Dynamo.
Biggest miss: Jodie Broughton. The winger, who has moved to Huddersfield Giants, is the only player who readily springs to mind that Salford could miss. He has safe hands, reads the game well, has an eye for an opening, is an astute finisher and has the bonus of being lightning quick.
ST HELENS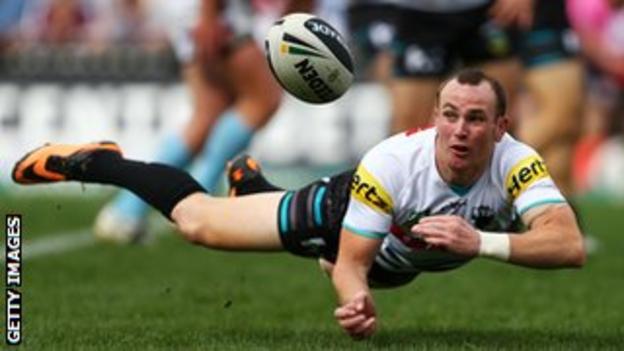 Last season: Super League final position - fifth, beaten in preliminary semi-final; Challenge Cup - fourth round.
Ray French, BBC Radio Merseyside: "The addition of Samoa's giant front-rower, Mose Masoe, and Wakefield's Kyle Amor to an already powerful pack will help their half-backs to command and direct the midfield more than was seen last season. With a pack in control up front, there is plenty of talent behind the scrum, with youngsters of the calibre of Jonny Lomax, Tommy Makinson and others able to display their abilities to the full. Coach Nathan Brown looks to have assembled a well-balanced squad and should be confident of bringing some silverware back to the club's trophy cabinet for the first time since 2008."
Key player: Luke Walsh. The half-back, signed from Penrith Panthers, is expected to guide and prompt the team around the pitch from behind possibly one of the biggest packs in Super League. His tactical kicking ability, both in attack and out of defence, will add much to the team's armoury.
Biggest miss: Tony Puletua. The veteran forward has joined Salford Red Devils and his powerful running and surprising turn of speed will be missed at crucial times. Puletua's ability to grab or create a match-clinching try in a closely-fought game often spurred Saints to victory.
WAKEFIELD TRINITY WILDCATS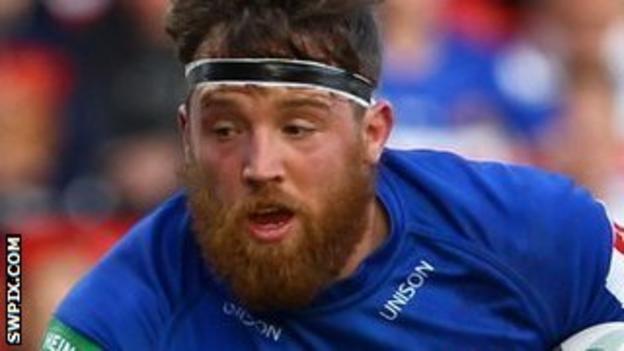 Last season: Super League final position - 11th; Challenge Cup - fifth round.
James Deighton, BBC Radio Leeds: "Having lost five of their best players, there is no doubt that the Wildcats will need to get more from less in 2014. Having said that, if they can keep their first-choice 17 free of injuries, then there should be enough quality there to keep them away from the Super League trapdoor come the end of the season. It will be a challenge that coach Richard Agar will relish and, I believe, achieve."
Key player: Danny Kirmond. He led by example in 2013 and made Super League's Dream Team at second row as a result. Many feared the beard last season and his contribution will be crucial again this time around.
Biggest miss: Tim Smith. 'The Wizard' will be working his magic at half-back for Salford this season. Financial problems forced Smith's departure, along with those of Kyle Amor, Ben Cockayne, Paul Aiton and Justin Poore.
WARRINGTON WOLVES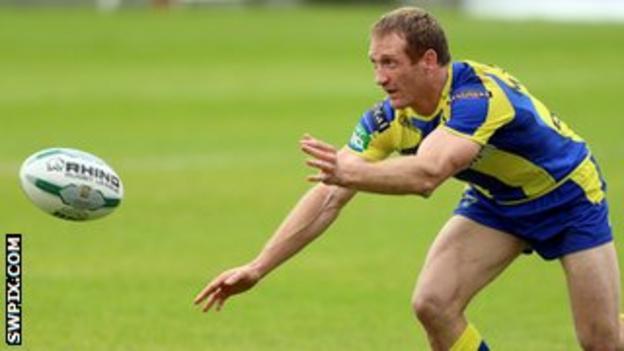 Last season: Super League final position - second, beaten in Grand Final; Challenge Cup - semi-final.
Ray French, BBC Radio Merseyside: "The loss of four vastly-experienced players in Brett Hodgson, Lee Briers, Adrian Morley and Gareth Carvell will, no doubt, provide problems for coach Tony Smith as he attempts to mould a team together, especially in the early weeks of the new season. But with exciting runners in Stefan Ratchford, Richie Myler and Ryan Atkins behind the scrum and a strong pack bolstered by the arrival of new prop Roy Asotasi, the Wolves - beaten Grand Finalists in 2012 and 2013 - should be challenging for honours again."
Key player: Michael Monaghan. The Australian has been named as joint-captain alongside Ben Westwood, an indication of how much value coach Smith places in his leadership. Whether playing at half-back or hooker, he will be at the hub of Warrington's attacking plans.
Biggest miss: Lee Briers. Warrington's record points-scorer will prove a huge loss for the Wolves in 2014. His perfectly-timed passing and tactical kicking has guided his side to countless victories in the past. A neck injury has ended his playing career but he will remain an inspiration as he helps to nurture more young talent in his coaching role at the Halliwell Jones Stadium.
WIDNES VIKINGS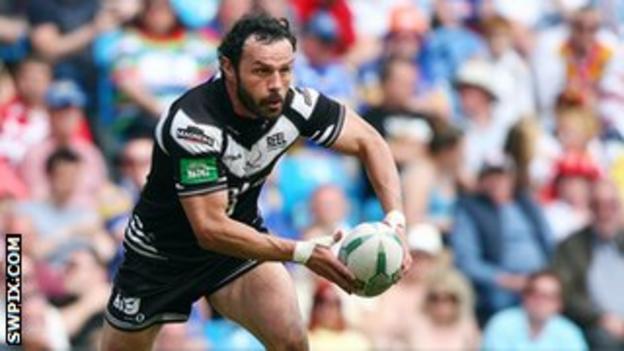 Last season: Super League final position - 10th; Challenge Cup - quarter-final.
Ray French, BBC Radio Merseyside: "The steady progress that Widnes have made since their return to Super League in 2012 owes much to the careful management of coach Denis Betts. The signing of experienced second-rower Danny Tickle from Hull FC should more than compensate for the loss of Gareth Hock, but the arrival or emergence of another prop may be needed if the club are to realise their ambitions of finishing the season in the top eight."
Key player: Jon Clarke. The veteran hooker and captain, after 14 seasons in professional rugby league, will be able to bring all of his vast experience and leadership to a Widnes side containing many home-grown youngsters. Always in the thick of the action, he can set the example to many in the Widnes team, both on and off the pitch.
Biggest miss: Gareth Hock. Though frequently troubled with injuries and suspensions during his season on loan at Widnes, the departure of the England second-rower will weaken the Vikings' pack. His aggressive, rugged style of play troubled many opposition forwards and helped colleagues progress up the field.
WIGAN WARRIORS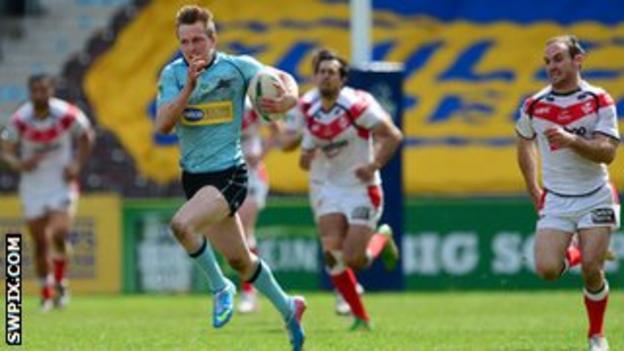 Last season: Super League final position - fourth, Grand Final winners; Challenge Cup - winners.
Jack Dearden, BBC Radio Manchester: "Wigan will be among the honours again this season. They have recruited well, and coach Shaun Wane typifies the way he wants his players to perform - with relentless effort and backed up with ability and attitude. Despite the fact that they are usually the team everybody wants to beat, they seem to handle the situation well. Wane, who led Wigan to the double last season, is Super League's equivalent of Sir Alex Ferguson - win something, put it in the trophy cupboard, then go out and do it all again."
Key player: Dan Sarginson. One of six new signings, the former London Broncos could be key for the Warriors this season. He has still got a bit to prove but has great potential, and the fact he will have better players around him can only be a help.
Biggest miss: Sam Tomkins. His energy, skill, and the uncanny ability to score vital points when they were needed most will all be missed. Being a Wigan lad and having come through the ranks, the full-back epitomised exactly what Wigan are all about. A class act and a match winner.
Compiled by Phil Cartwright, Ian Woodcock and Rob Stevens.
BBC Radio 5 live and 5 live sports extra has regular live radio commentary throughout the season of Super League and Challenge Cup from the fourth round onwards, plus commentary on BBC Local Radio from the Super League, Championship and Championship One.
In addition, the BBC Sport website will provide comprehensive news and match reports.
The BBC's current rugby league offering on television includes the weekly Super League Show, live Challenge Cup action from the fourth round onwards and Super League play-off highlights.