Marwan Koukash: Salford owner critical of new television deal
Last updated on .From the section Rugby League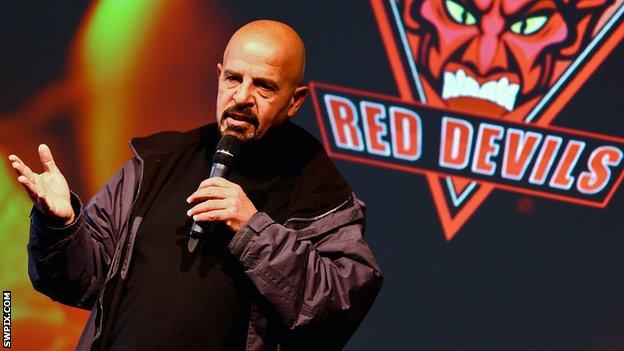 Salford owner Marwan Koukash believes the new Super League television deal is only a "short-term" fix for the game's financial issues.
Under the new agreement, satellite broadcaster Sky Sports will show live matches until 2021.
Koukash, who voted against the deal, says the contract length is a concern.
"You don't commit to a single broadcaster for eight years at a time when there are other players in the field," he told BBC Radio Manchester.
It is estimated that the new five-year agreement, which comes into effect at the start of 2017, will be worth around £200m - an increase of around £73m on the previous deal, which runs out at the end of 2016 season.
Koukash in January 2013 and has since
But other clubs such as London Broncos, Bradford and Wakefield have had to cope with serious financial issues in recent months.
has also questioned the wisdom of the new deal - but St Helens chairman Eamonn McManus has described it as a "triumph".
He said last month: "At a stroke this ensures solvency for all Super League clubs for the foreseeable future and provides confidence to fans and sponsors in equal measure."
However, businessman and racehorse owner Koukash accused the league of rushing into the new agreement, and also expressed unhappiness at being given just a day's notice before being asked to make a final decision on it.
He continued: "When clubs are starved of cash and then you offer them an extra £300,000, of course they will jump at it. Have they thought about it seriously? Have they thought that the value of the £300,000 they're going to get in four or five years is going to diminish?
"It's a short-term gain. Nobody looked ahead."
Brian Barwick, chairman of the Rugby Football League, said he has been "disappointed" with the reaction from a "small minority" of Super League clubs to the new deal.
"To retain this long-standing broadcast partnership [with Sky Sports], and at significantly increased financial terms, is indeed a great win for rugby league," Barwick said in a statement released on Wednesday.
"Most of the clubs recognised that the best result for the immediate future of the game was in front of them, as indeed the significant majority that voted in favour of the offer from Sky Sports underlined.
"The other clubs were able to vote against it as they saw fit, which is appropriate.
"What I feel isn't appropriate, though, is the tone and content of the criticism by some of the Super League clubs who have their own reservations about the deal."
Koukash has also criticised the on a part-time basis.
The 42-year-old, who led England to a World Cup semi-final in November, will combine his duties as coach of the national team with his new position as assistant to Trent Robinson at Sydney Roosters.
"What signal are we sending out? We're trying to promote our own league and our own game," said Koukash.
"When you go out and appoint, as an England coach, someone who is working as an assistant coach in the NRL, what's that saying? It's sending out the wrong message, that we are a second-class league."