Sam Burgess: Switch to union would be major blow for league

Last updated on .From the section Rugby League200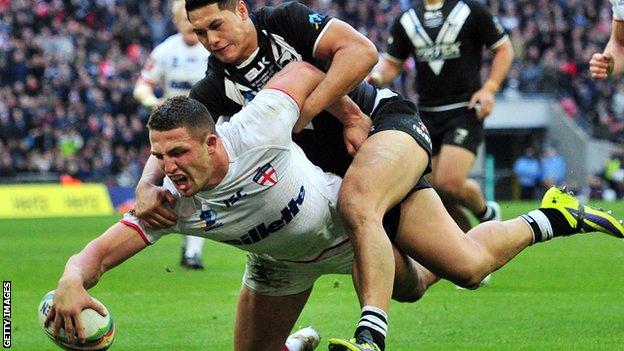 Few rugby league stories have made such forceful waves on the eve of a new season as the proposed switch of England superstar Sam Burgess to rugby union.
The rumours have been there for weeks, but the speed and strength with which the story has gathered momentum has alarmed and even angered many.
Few enjoy seeing any player cross codes, let alone the man that English rugby league is being built around.
Despite the denials and straight bats from both the Rugby Football Union and Burgess's NRL side South Sydney over the player's proposed move to Bath, it is clear the move is on.
I'm left with two questions. Why would Burgess make this move? And what does it mean for league if he does?
On the face of it, the answer to the first question would be the allure of next year's Rugby Union World Cup. Burgess was sensational for England in their run to autumn's Rugby League World Cup semi-finals, and few players have the opportunity to do a Sonny Bill Williams and star in both.
Yet the proposed move would not be until the end of the Australian season, giving Burgess very little time to learn the game, let alone master it in time to compete in a World Cup.
There is no guarantee of success in a code switch either. Burgess is a beast and I personally have little doubt that he would rise to the top in the 15-man game. Brian Noble, the man who first signed him for Bradford Bulls, agrees.
"We shouldn't forget what an animal Sam Burgess is athletically," Noble said. "His rugby skills suit both codes, he's a bit of a freak and would really create an impact.
"He'd be a great loss to league but would be a big wow if he played in the 2015 World Cup."
However Iestyn Harris - a wizard of league - and the brilliant Henry Paul would both testify there is no certainty of such dominance in union.
So what else is Burgess considering? Money?
Like it or not, careers are short and players have to look after their livelihoods. My understanding is that Burgess would more than double, perhaps even treble, his current salary in the mega-rich NRL with a move to Bath.
"It's life," Wigan coach Shaun Wane said, himself having lost Sam Tomkins to the NRL with New Zealand Warriors.
Tomkins, like Burgess, has been linked with a future move to union. "People's contracts finish," said Wane. "They go to rugby union, they get offered more money in the NRL."
So does Wane think it's about the cash? Salford's millionaire owner Marwan Koukash warned this week that unless the Rugby Football League allowed the clubs to run the game themselves and pay players what they wanted, then all of the best players would head to Australia or to union.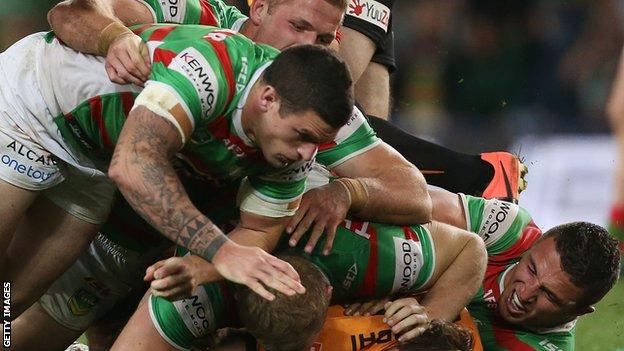 "There's definitely a financial element to it," says Wane. "But there's also the chance of him being a dual international player in union and league.
"I know Sam Burgess very well and I understand the attraction of playing at Twickenham in rugby union. I'm a true league man but I do understand the qualities of rugby union. I do get where Sam's coming from."
Like it or not, union offers the opportunity to play on the big stage in front of capacity crowds in major tournaments. League, on the whole, does not.
Burgess may think it is never going to get as good as playing for England Rugby League in a home World Cup at Wembley. He achieved that in November.
Yet he is also a national celebrity in Australia, with a fantastic Sydney lifestyle. Would he really want to swap that for club union in the UK?
Family is of course another consideration. All three brothers Luke, George and Thomas are playing with Sam at South Sydney, and mother Julie has emigrated to be with her boys. It would be a bold move for Sam to return alone and switch codes.
But in opting to leave Bradford on his own as a 20-year-old to launch a career in the toughest league on the other side of the world, Burgess has already shown he is happy to back himself.
So where would it leave league and what would it mean to the sport if the deal goes through? For me it would be an absolute hammer blow.
Wigan chairman Ian Lenagan painted a passionately optimistic picture when Sam Tomkins and Lee Mossop quit for Australia at the end of the season.
His argument is that they will return to Super League, and do so as better players, and in the meantime the national team will be enhanced. But this is different. This is English rugby league's superstar considering leaving the sport.
It would leave a massive and arguably irreparable hole in Steve McNamara's England squad and be a monumental coup for the RFU.
As a league fan I would be genuinely gutted. But could I blame him? No way.
Once the sense of disappointment dissipates at league's star men being snared by union, I do feel a strange sense of pride.
Stuart Lancaster is trying to assemble the best union team on the planet and he wants league players like Burgess, Tomkins, Eastmond, Ashton, Farrell.
"The talent is there and it is important we try and keep it," says Noble, a former Great Britain coach. "But there is no greater accolade than being wanted by the England rugby union team".