Batley Bulldogs: Johnny Campbell & Ayden Faal banned for betting
Last updated on .From the section Rugby League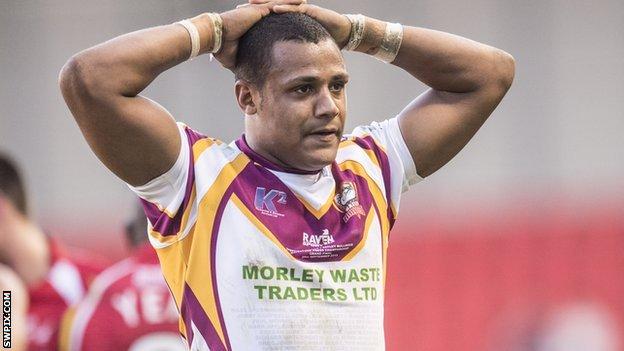 An RFL Operational Rules Tribunal has suspended two Batley Bulldogs players for breaching the sport's rules relating to betting.
Johnny Campbell has been banned for 12 months after betting on a number of games, including the Grand Final with Sheffield Eagles in which he played.
Ayden Faal did not play in that final but has been banned for six months for placing a bet on the game.
The tribunal accepted that there was no suggestion of match fixing.
Both players placed a bet that the first points of the Grand Final would be a Batley penalty goal.
Under RFL Operational Rules D1:10(c) "players shall not be involved in any manner or capacity whatsoever, whether for his own account or on behalf of any other person, in any betting in respect of any rugby league match or competition".
Winger Campbell and centre Faal were also deemed to have breached Operational Rule E5.3.1.3.1 which "forbids players from using, in relation to betting, any information they have by virtue of their position within the sport that is not in the public domain or readily accessible by the public".
Batley start their 2014 season away at Leigh on Sunday.