Sam Burgess must earn England place - Stuart Lancaster
Last updated on .From the section Rugby Union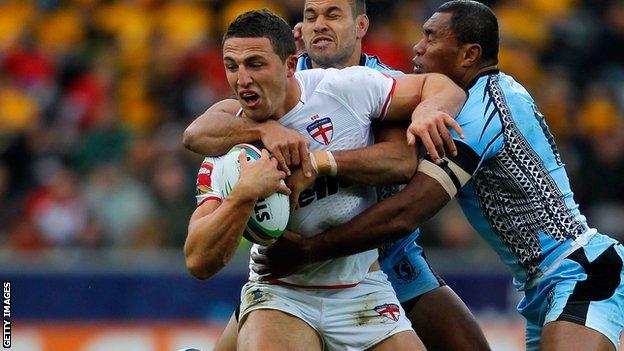 England rugby union coach Stuart Lancaster says Sam Burgess will have to earn a place in the national side following his switch from rugby league.
The 25-year-old says he wants to appear in the 2015 World Cup but Lancaster said: "It's going to be a challenge.
"Sam is going to have to earn the right. I've never said he's going to be fast-tracked into the World Cup squad."
He continued: "You may go into a World Cup with three or four centres and if he was to play in that position he'll have to fight."
Next year's Six Nations starts on 6 February, giving Burgess - who plays as a forward in league - around three months to adapt to his new code beforehand, while the 2015 World Cup starts in England the following September.
"I think his ambition is not just for the 2015 World Cup," said Lancaster. "I think it's for the 2016 Six Nations, for the Australia tour in 2016 and I'm sure, knowing Sam, the British [and Irish] Lions tour in 2017.
"So I don't think he's done it for the short term, albeit the short-term goal is the World Cup.
"He'll have to start learning the game during the course of that 2015 season, so Six Nations [that year] would be a real push, I would suggest.
"I can't see for one minute that Sam Burgess is going to be in that squad having played two months of rugby union.
"If he makes the transition smoothly and effectively and begins to play well during the second half of that season, then there is an outside chance he could make the World Cup training squad.
"If he makes the World Cup training squad, there are two warm-up games before the squad is announced.
"He's a great rugby league player - world class. While I'm sure the transition will take some time, long-term for Bath it's a fantastic signing. And perhaps for England - but we'll have to wait and see."
Bath coach Mike Ford confirmed to BBC Sport that they would be the ones dictating Burgess' development, after paying a reported £270,000 to secure his services.
Ford, who won 10 rugby league caps for Great Britain, added that the presence of several former league players at the Recreation Ground should help Burgess to acclimatise.
"We feel this is the best environment for Sam," he said. "We've not only got myself here, we've got Kyle Eastmond, who transferred two years ago from St Helens, my son George is here who played rugby league all his life.
"I'm steeped in rugby league and we've been through the transition, we understand what it's like for that person to be standing on the rugby union field.
"It doesn't matter which position he's in, he's got to learn the basics and that's what we'll first concentrate on when he first comes over."
England's 2003 world cup winner Matt Dawson believes the transition will require patience and making the England squad for next year's World Cup will be a difficult task.
He told BBC Sport: "To put Sam in a decision-making position, which 12 is, let's put it in perspective, who is standing up at the moment saying 'I am the best 12 in England after playing union all their life?' We haven't found one and yet we think we may find one from another sport.
"I am not sure he will be there in time for 2015, it will be more like 2019."
Meanwhile, England rugby league coach Steve McNamara says Burgess's decision to switch is a blow to league.
Burgess started his career as a 17-year-old at Bradford, where he played under McNamara, before agreeing a move to Australia to join NRL side South Sydney Rabbitohs in 2009.
"It is hugely disappointing and a huge loss," McNamara told BBC Sport. "He will be a big loss and a big hole to fill.
"He is the biggest name we have in English rugby league and probably worldwide rugby league right now.
"He'll certainly be a big asset for rugby union - Bath in particular and, hopefully, if Sam makes it his ambition to play for England rugby union as well."
McNamara says Burgess is the "ultimate physical specimen" but has warned the player he faces a big challenge in making a success of himself in rugby union.
"He has got the basic attributes but knowing the inside outs, technicalities and understanding of the game is a completely different concept," he said.
"He is going to have to work harder than any other player in English rugby and he is going to have to do that on top of all the other physical aspects and normal training every player has to put in."