Lee Briers: Ex-Warrington half-back reveals 'dark' retirement
Last updated on .From the section Rugby League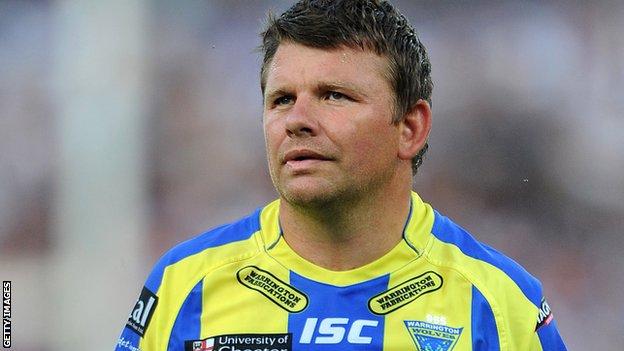 Former Warrington half-back Lee Briers says he had "dark months" following his retirement from playing.
He is now part of the coaching staff at the Halliwell Jones Stadium but admitted it was difficult to take when he was told he could no longer play.
"Other than my brother dying it's the second worst day I've ever had in my life," he told BBC Radio Manchester.
"I've had three or four dark months. There's the rain and then the freezing cold and there's nothing that you think is going to get any better, but there's light at the end of the tunnel."
Briers joined Wolves from St Helens in April 1997 and went on to become their record points scorer with 2,586 in 425 appearances.
His final game was last season's Grand Final loss to Wigan, but he did win the Challenge Cup three times during his 16-year career and was awarded the Lance Todd Trophy for his display in the 30-6 win over Leeds in 2010.
"It shocks you and I prepared myself to hear that news that day, but until it happens you never know how you're going to feel and I was devastated," Briers told Rugby League Extra.
"At the end of the day I could have been sat there in a wheelchair and how bad would have that been? So there's positives I can take out from everything.
"The club have been fantastic with me and they've done everything they could have to help me through it.
"I'm here and looking forward to a brand new career as a coach and loving every minute of it."