Bradford Bulls consortium gets go-ahead to take over club
Last updated on .From the section Rugby League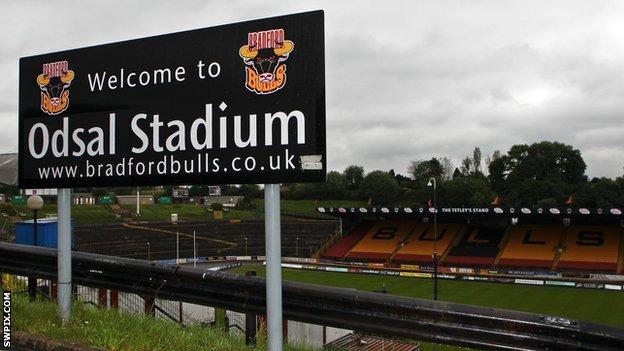 The Bradford Bulls 2014 Ltd consortium have had their takeover accepted by the club's administrator.
The Odsal side were placed into administration on 31 January after its former holding company, OK Bulls Ltd, the company of former owner Omar Khan, entered administration.
Bradford Bulls 2014 Ltd secured a 28-day Super League licence following last month's announcement.
The board will now seek ratification from the Rugby Football League.
Chief executive Robbie Hunter-Paul said: "We are delighted that our offer has been accepted by [administrator] David Wilson and are now approaching the final stages in the change of ownership of Bradford Bulls.
"The position of the board of directors of Bradford Bulls 2014 Ltd has always been to be open with supporters and stakeholders and that is why we are making an effort to update everyone concerned with precise and accurate information.
"The RFL's board of directors must now take a view on our offer, our plans for the future and the way in which we intend to work with creditors going forward.
"Despite recent reports, the ownership of the club now has to be approved by the governing body.
"There are right and proper protocols to follow and a due process which is still to take place.
"But we are extremely confident that we will receive ratification in the near future, handing us the right to operate in the sport's top flight."
A rival bid for the club from businessman Richard Lamb was also considered.
The Bulls could still face a points deduction from the RFL after going into administration for the second time in two years.
Mark Moore, Andrew Calvert and Ian Watt - along with the previously-departed Ryan Whitcut - initially stepped in at Odsal in September when Khan stepped down, but in early December told the club's fans that the financial problems they were dealing with were worse than they had thought.
They said Bradford needed to make savings of up to £400,000 and a day later redundancies were made across the club.
The trio then resigned on Christmas Eve over Khan's refusal to transfer the club's shares, before returning just six days later.
The Bulls picked up their first points of the 2014 season with a 23-10 win at Wakefield on Thursday.