Bradford Bulls deducted six points as takeover collapses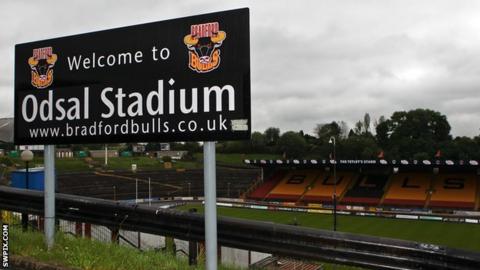 Bradford Bulls have been deducted six points by the Rugby Football League after going into administration, prompting the club's proposed new owners to pull out.
The Bradford Bulls 2014 Ltd consortium had their bid to purchase the Odsal club accepted last Friday, although it was still to be ratified by the RFL.
But they have withdrawn their offer as they believe the sanction makes "relegation almost a certainty".
It leaves Bulls bottom of Super League.
Bradford have won one and lost one of their opening two Super League matches but the deduction now leaves them four points adrift at the bottom of the table, with two teams to be relegated this season.
The Odsal side were placed into administration for the second time in less than two years on 31 January after OK Bulls Ltd, the club's former holding company established by previous owner Omar Khan, entered administration.
Bulls chairman Mark Moore, who was part of the Bradford Bulls 2014 Ltd consortium, said: "It is with great sadness and frustration that we have been led to this point.
"I believe that we have been forced into making this decision, due to the Rugby Football League's proposed sanction of a six-point deduction, making relegation almost a certainty.
"In addition, the governing body wished to place the club's licence into special measures, which, as successful businessmen, will likely taint our personal dealings while embarrassing us all professionally."
Moore claimed that "poor leadership" by the RFL had resulted in the club going back into administration last month, and that it had ignored their proposed business plan.
He said the club was having to operate on only half the central distribution funding, with the rest of the Super League clubs sharing the other half, but had made cost-saving measures of nearly £1m over the past few months.
"We have, time and time again been complemented for the measures we have put in place by RFL representatives, so have taken this complete lack of support with surprise and shock," he added.
But RFL chief operating officer Ralph Rimmer said the situation was of the club's own making, caused by an attempt by Moore and former chairman Ryan Whitcut to purchase the Bulls using the club's own money.
"Throughout our dealings with them, the club's directors were unable to provide any evidence of new capital investment into Bradford Bulls and consequently, the RFL Executive had no confidence in the business plan that was presented," said Rimmer.
"We will continue to work with the administrator to find a solvent and viable solution for the club and will provide an update to the other Super League clubs at their scheduled meeting on Wednesday."
Moore, Andrew Calvert and Ian Watt - along with the previously-departed Whitcut - initially stepped in at Odsal in September when Khan, who had brought the club out of administration in September 2012, stepped down.
However, in early December they revealed that the financial problems they were dealing with were worse than they had thought, with the club needing to make savings of up to £400,000 and a day later redundancies were made across the club.
The trio then resigned on Christmas Eve over Khan's refusal to transfer the club's shares, before returning just six days later.
The Bulls, who have been Super League champions four times, were also deducted six points for entering administration in 2012 and have finished ninth in each of the last two seasons.