Salford's Marwan Koukash 'will make marquee player idea happen'
Last updated on .From the section Rugby League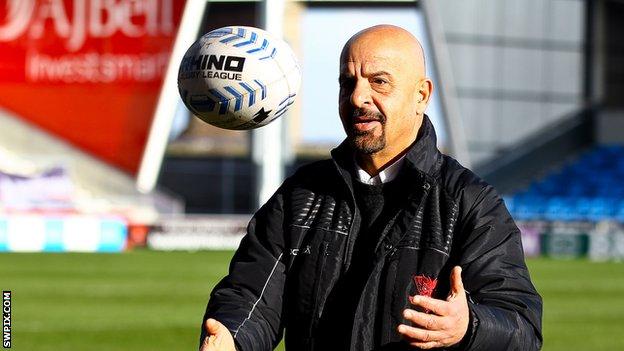 Salford Red Devils owner Marwan Koukash believes he can convince clubs to accept his proposal to attract more high-profile players to Super League.
Clubs this week rejected his idea to allow teams to make a signing exempt from the £1.8m salary cap.
"We are competing against the NRL and rugby union. I want to send a statement that it's not one-way traffic any more," he told BBC Radio Manchester.
"It's not just to benefit my club. It's to benefit the sport in general."
He continued: "It's not going to happen just yet, but it will happen. I'll make it happen because it's the right thing for the sport."
Koukash is keen to reverse the trend of rugby league stars leaving the domestic competition for opportunities elsewhere.
England full-back Sam Tomkins, arguably Super League's biggest star of recent years, left Wigan to join New Zealand Warriors in Australia's National Rugby League for a world-record fee at the end of last season.
And another England international, Sam Burgess of South Sydney Rabbitohs, will switch codes to join rugby union outfit Bath later this year.
Koukash, who has invested heavily in Salford's playing staff since taking control of the Red Devils in January 2013, had publicly admitted his interest in signing both players.
The multi-millionaire businessman and racehorse owner added: "I'll do to union what they've been doing to us and I will bring over a couple of their players who played for the [British and Irish] Lions.
"And I want to send a message to the NRL: we are not your nursery and we are not going to be here breeding players for you to come and pick the best."
The financial plight of clubs such as London Broncos and Wakefield has been well documented in recent months, while the turmoil at Bradford Bulls continued on Tuesday when they were handed a six-point deduction for entering administration earlier this year.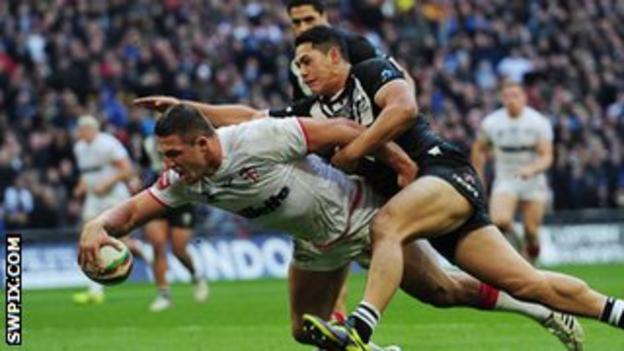 But Koukash has dismissed suggestions that his proposal would be heavily weighted towards the wealthier sides and he is determined to convince the doubters that every Super League club will benefit.
"Five teams [Salford, Widnes, Wigan, Warrington and Leeds] voted for it and two [Bradford and Catalan Dragons] weren't there so they could be still on board," he said.
"There are six teams to work on. The six teams that are there, apart from St Helens, are worried about their financial position and not being able to compete.
"But let's face it, they can't compete now. They are not spending the salary cap. If we could show them a marquee player will benefit them - a marquee player will put more bums on seats - so it will be extra income for them."
Koukash added: "If there are 12 teams in the competition, that means there are 12 'tickets' around that we could raid the NRL for.
"Say Warrington had [New Zealand international and reigning Rugby League International Federation Player of the Year] Sonny Bill Williams. Wherever Warrington go, there will be 3,000 more people on the gate. A simple calculation says that's going to be worth £50,000 to the likes of Bradford, Wakefield, Salford and so on.
"If they accept my proposal, which says their 'ticket' could be sold on, I could buy it for £100,000 or £200,000 from the likes of Wakefield or Bradford. It's extra money coming into the sport and to those teams."
Hear BBC Radio Manchester's full interview with Salford owner Marwan Koukash in the latest Rugby League Extra podcast.