Rugby league game called off because of hypothermia fears
Last updated on .From the section Rugby League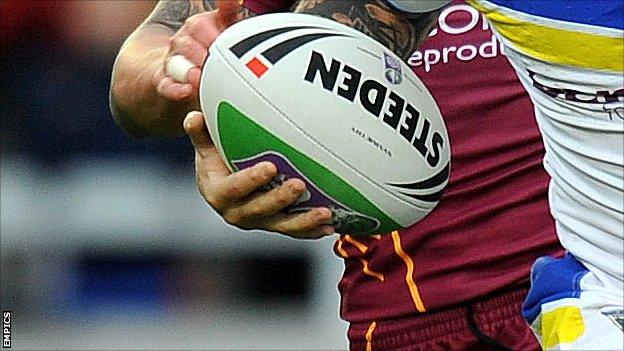 Oldham's Championship One season opener against South Wales was abandoned early with players requiring treatment for hypothermia-like symptoms.
The visitors had four players forced off, prompting Oldham to request the match be called off after 72 minutes, with them leading 18-4.
Oldham chief executive Chris Hamilton told BBC Radio Manchester: "They were showing major signs of hypothermia.
"The conditions were horrendous. It started to rain and it was torrential."
Oldham winger Dale Bloomfield was the first to leave the field in the second half as freezing, wet conditions at Maesteg in Bridgend worsened.
"I've never seen conditions, non-stop like that, in one of our matches in the 17 years that I've been involved with the new club," said Hamilton.
"The second half particularly - the wind also got up, and it was incessant.
"We ended up taking Dale off after only about five minutes in the second half because he was the first to show signs of hypothermia.
"The way he came off holding one of his arms I thought he broke his arm or wrist.
"As conditions continued to get worse, and the wind increased and the rain absolutely lashed down, the physio was on and off the field as more and more players were starting to show the effects of hypothermia."
Oldham then lost Danny Whitmore, Kenny Hughes and Brett Robinson, while the hosts also appeared to suffer, with Phil Carleton forced off.
All the players are said to have now recovered. A decision on the result of the match is expected to be reached by the Rugby Football League this week.