Barrow Raiders: Bobbie Goulding named as head coach
Last updated on .From the section Rugby League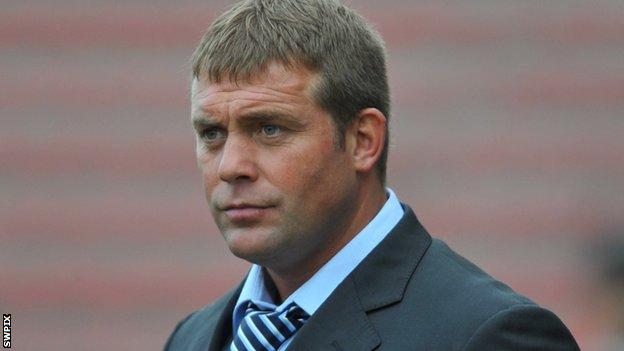 Barrow have appointed former St Helens and Great Britain scrum-half Bobbie Goulding as their new head coach.
The 42-year-old replaces Anthony Murray, who unexpectedly stepped down earlier this month after five months in charge of the Championship club.
His most recent involvement in the sport was as head coach of France.
Since losing that job in 2011, Goulding has undergone treatment for alcohol and drug misuse at the Sporting Chance clinic in Hampshire.
Goulding told BBC Radio Cumbria: "The chairman is very, very ambitious and there is something to build on here.
"As a coach I have to work with my players, and at the moment the result is what counts for us. It is a must that we stay in this division."
Goulding, from Widnes, first came to prominence as a teenage scrum-half with Wigan.
He went on to play for a series of clubs, including spells in the Australia's National Rugby League with Parramatta and Eastern Suburbs.
He also won a total of 22 international caps for England and Great Britain.
After his playing career ended he took up coaching roles with Rochdale and then France.
In June 2012 he was fortunate to survive a 50mph crash when his car left the road and overturned after hitting a tree. Soon after leaving hospital he was persuaded by the Rugby Football League to check into Sporting Chance.
In a Talksport radio interview last month he said he owed his life to the RFL.
"Without that call from the RFL I don't think I would be here now, I think I would be dead," he said.
"I'm 10 months sober now and I'll never touch another drink or drug again. I've had a lot of chances and I've let people down, and I'm not going to let anyone else down."