Hull KR chairman says RFL match review panel is 'ruining game'
Last updated on .From the section Rugby League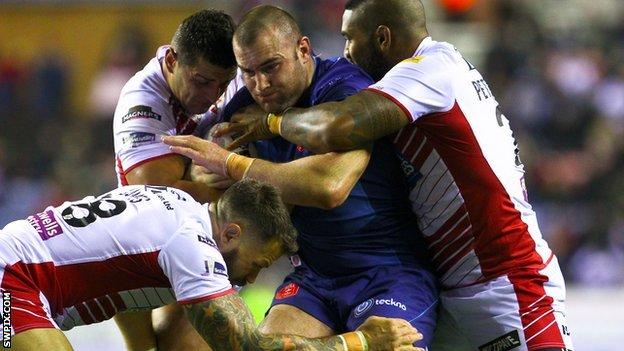 Hull KR chairman Neil Hudgell has accused the Rugby Football League's match review panel of "bringing the game into disrepute".
Hudgell believes the decision to ban the 29-year-old shows an inconsistency in the board's disciplinary processes.
"It is time the match review panel stood aside as they are not fit for purpose," he said in a statement.
"It is six weeks into the season and we have already been on the wrong end of three inconsistent decisions. I do not have an issue with my players being cited for infringements if we are dealt with consistently.
"Only a change in personnel, I believe, is capable of effecting the right change, and I call on the executive of the RFL to do that before a player suffers serious injury as a result of their inaction.
"There are too many members sitting with vested interests, lack of knowledge, and an arrogant, high handed 'holier than thou' attitude.
"There are too many people with too little knowledge of the technical aspects of our game making decisions they are clueless about, ruining the spectacle of our game, bringing it into disrepute and driving people away from it."
The match review panel looks at incidents in which players were dismissed, put on report, or incidents which are spotted by members of the panel.
And responding to Hudgell's criticism, the RFL claimed the review system was held in high regard.
Director of standards and licensing Blake Solly said: "Rugby League's disciplinary process is the envy of many other major sports and is held in high regard for its transparency, consistency and fairness.
"The sport has long been in the vanguard for its readiness to embrace technology and the use of video replays, both during and after games, means player are more accountable for their actions than ever before.
"The individuals involved on the match review panel and disciplinary tribunals all bring considerable expertise, including experience on the playing field at international level, to the process."