NRL: McLean gets seven game ban for horror injury tackle
Last updated on .From the section Rugby League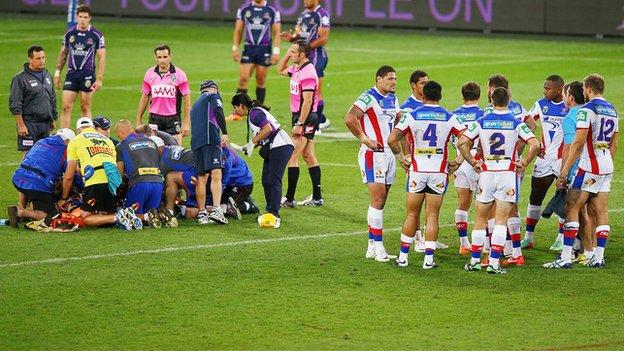 Melbourne Storm forward Jordan McLean has been banned for seven matches over the tackle that left an opponent in hospital with a broken neck.
McLean was found guilty of a dangerous throw on Newcastle's Alex McKinnon by an NRL judiciary panel in Australia.
The suspension has been criticised, with some arguing McLean has been punished for the severity of McKinnon's injury rather than the tackle itself.
McLean will not be available until his club's encounter on 8 June with Wests.
McKinnon, 22, underwent emergency surgery after breaking two vertebrae in his neck as he hit the ground after being tackled on March 24 and does have some movement in his right arm.
He is now in a serious but stable condition in hospital after being brought out of an induced coma, although uncertainty remains about the extent of any further recovery, which doctors have told McKinnon's family could take up to two years.
The incident has led Sports Medicine Australia chief executive Nello Marino to demand a change in the sport's rules.
"Gone are the days when a player would take to the field despite knowing there a significant risk of serious injury," he said.
"The only way we are going to see less of these types of terrible accidents will be to make safety the priority when making rules or considering rule changes - a ban on the lift tackle reflects this."
Club officials have remained with McKinnon in Melbourne following the incident.
At his two-and-a-half hour judiciary hearing in Sydney, McLean opted not to watch any of the replays, which were shown from eight different angles.
After the player was found guilty by a three-man panel, the prosecution asked for a suspension of between seven and 11 weeks, while the defence believed a punishment between one and three weeks would be sufficient.
McLean does have the right of appeal.
"It was a terrible accident," said Storm chief executive Mark Evans.
"There has been a due process and a sentence has been handed down. We will think about our position in the next few days.
"There are no winners in this - there was never going to be."