Challenge Cup: Leeds Rhinos v St Helens classic ties
Last updated on .From the section Rugby League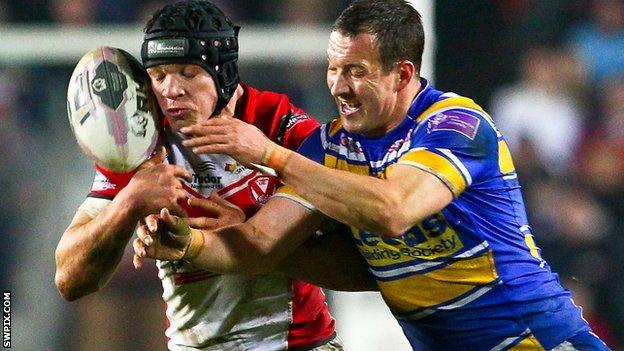 There is something special about matches between Leeds and St Helens - and their shared history goes back long before the razzmatazz of the modern Super League era.
Titles, finals and last-four ties have all been settled in head-to-head encounters between two of the sport's most successful clubs.
Here, ahead of Saturday's fifth-round tie between the pair, BBC Sport remembers four of their classic Challenge Cup meetings.
Challenge Cup final - May 1972: St Helens 16-13 Leeds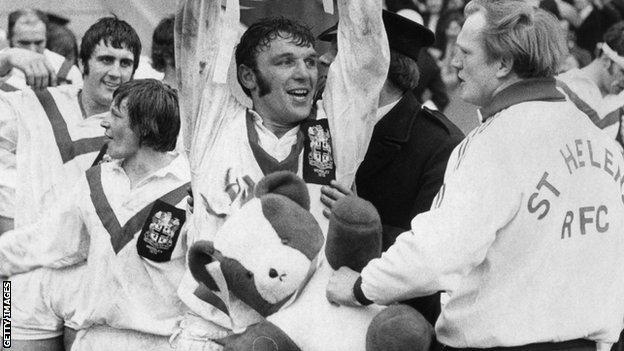 St Helens lifted their first Challenge Cup since 1966 in a thriller at Wembley, pipping Leeds to the trophy a week before the Championship final in which the fortunes were reversed.
Saints, captained and inspired by Welsh rugby union convert Kel Coslett, made a flying start to the game with Graham Rees's try inside 35 seconds and, once Les Jones had also crossed, had opened up a 12-6 lead at half-time.
Jim Challinor's side survived a Loiners fightback after the break to clinch the cup, with Coslett collecting the Lance Todd Trophy for man of the match.
Kel Coslett told BBC Sport:
"It was a good win, we were underdogs because we had a few injuries and we were a bit nervous, but we were lucky enough to score in the first minute. Leeds went to clear their line but we cleared the kick down and scored a try.
"It was a big thing and a big day for me because I had missed the 1966 final through injury and in those days you didn't go to Wembley too many times in your career. It was a big boost for me coming into rugby league. It was the icing on the cake.
"As captain I was looking after the team, there was a young lad, Ken Kelly, who had only played a few games but it was a tremendous occasion. If you can't enjoy playing against a Leeds or a Wigan you shouldn't be playing the game. I always enjoyed it.
"I had people from Wales backing me up and wanting us to do well. To me personally, coming in from Wales, it was a great feeling to be in a side with so many good players in it."
Challenge Cup final - May 1978: Leeds 14-12 St Helens
Widely recognised as one of the most enthralling Challenge Cup finals of all time, the meeting of two sides whom between them had featured in seven of the last 10 Premiership finals lived up to the expectations.
Saints, Premiership champions in the previous two seasons, took on a Leeds side that were bidding to retain the cup they won against Widnes the previous season in a classic before 96,000 fans.
Graham Liptrot went over inside four minutes to put the Saints ahead after Harry Pinner's bomb was spilled by Willie Oulton and John Atkinson, and within 13 minutes it was 10-0 as Bill Francis dummied and stepped his way over after Liptrot won a scrum against the head.
Leeds fought back as John Atkinson got them on the board when he worked his way over in the left corner after Les Dyl fizzed a pass wide, but Geoff Pimblett kicked a goal just before the half-time hooter to give Saints a 12-5 lead.
The game was to turn on its head after the break. Loiners captain David Ward slotted a drop goal tonarrow the gap, David Smith touched down on the right and when Phil Cookson crashed over for a third score the team in blue and amber were level.
Drop goals from John Holmes, a Leeds legend who passed away in 2009, and Ward again were enough to hand the cup to Syd Hynes's side.
Challenge Cup semi-final - April 2003: Leeds Rhinos 33-26 St Helens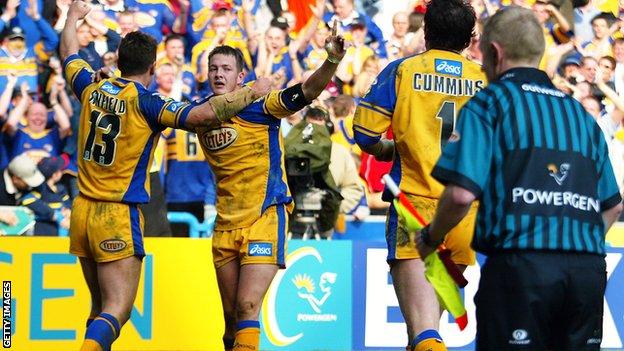 Danny McGuire has enjoyed, and continues to enjoy a distinguished career with the Leeds Rhinos, but one game as much as any served to highlight the talent of the former East Leeds amateur - and that was the 2003 Challenge Cup semi-final success at Huddersfield.
The game was a modern classic. Leeds were 18-6 up thanks to tries from winger Mark Calderwood and current Bradford boss Francis Cummins after Darren Smith had scored for Saints.
But an uncharacteristically misfired drop-out from Kevin Sinfield gave Ian Millward's side the chance to strike back through Paul Newlove and reduce the deficit to six points.
Penalties from Paul Sculthorpe and a Sean Long try for the Saints, cancelled out by Sinfield's penalty, had the scores level, before the Red Vee looked to have booked their place at Cardiff's Millennium Stadium through Smith's converted try.
McGuire however, sent on off the bench, was instrumental with a last-gasp score to bring the Rhinos level and once extra-time was well under way, the half-back showed the predatory instincts that have brought him 234 tries in the Blue and Amber to dart over for the match-winning points.
Danny McGuire told BBC Sport:
"I was still finding my feet in the first team having come through the academy system, it was only my second full year with the team, and it was the first game that put me out there, got people to see how and what I could do. It was a great platform with the game being on the BBC and a semi-final.
"Even Leeds fans didn't know much about me and it thrust me into the limelight, and it took us to a Challenge Cup final.
"I remember being on the bench for quite a bit of the game until about 50 minutes and nerves played a big part as I bided my time. I'm not a great watcher but any player would rather be out there in the mix.
"Saints had a really good team, great players like Paul Sculthorpe, Sean Long and Kieron Cunningham who could be pretty intimidating to a young player. But I think once you're out there it doesn't matter.
"The atmosphere was really good at Huddersfield, and I don't think it's been quite as full or good as it was in 2003 since.
"The try in extra-time was a really good team try, it was nail-biting, we made a break in the middle and I put myself in the position and it was the try I enjoyed the most.
"I still put that game up there, as it hasn't been a great competition for me, all my memories are semi-finals really.
"It's definitely my most memorable Challenge Cup moment."
Challenge Cup semi-final - July 2008: St Helens 26-16 Leeds Rhinos
St Helens went in search of a Super League and Challenge Cup double in 2008, and although they lost at the final hurdle to the Leeds Rhinos in the Grand Final, they eliminated the Headingley club en route to a Wembley Cup success.
Huddersfield's baking hot stadium was the venue and under the blistering sun some equally blistering football was played, with Daniel Anderson's Saints emerging victorious.
Injury pre-match to Kiwi Test full-back Brent Webb was a huge blow for the Rhinos, as were mid-game injuries to Rob Burrow and Clinton Toopi, but the Rhinos still played their part in an absorbing game.
Chris Flannery was first on the board for Saints after the enigmatic Sean Long had burst the line, and after Kevin Sinfield banged a penalty over to add two for Leeds, Long's lateral run and pass freed Leon Pryce to dance through to the whitewash.
Jon Wilkin went over after work by Francis Meli and Lee Gilmour on the left-hand side with Saints running riot, but the Rhinos showed resolve to force their way back into the match.
Firstly, Ali Lauititi burrowed over from dummy half, and Aussie winger Scott Donald crossed to again cut the gap. But Saints - with Wembley in their sights - stamped their authority on the match through Bryn Hargreaves's close-range finish.
Kylie Leuluai powered over the line for Brian McClennan's Rhinos near the end to keep the tension up, but Saints held out and retained the Cup with victory against Hull FC in the final a month later.
Jon Wilkin told BBC Sport:
"In any sport, when you've got two teams that are battling it out to be top of their profession, the games are always hotly contested. They're always games that mean something to the competition.
"With regard to that 2008 game, the one thing I remember most about it was how intense it was and how high quality it was. It was a really hot day.
"The highest quality games you're involved in are the ones with the least amount of rest and the ball was barely out of play, it was an endurance thing. Every game I've played for Saints against Leeds, with the exception of one or two, has been of the highest quality."