Gateshead Thunder: Newcastle owner Semore Kurdi takes over
Last updated on .From the section Rugby League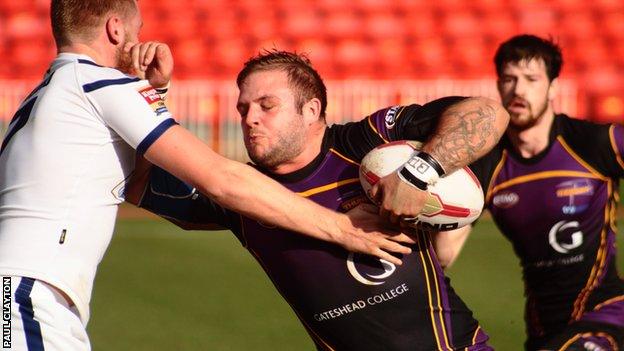 Newcastle Rugby Limited, owned by Falcons rugby union chairman Semore Kurdi, have taken over Championship One rugby league side Gateshead Thunder.
Premiership side Falcons will combine resources and share facilities with Thunder as part of the agreement.
Funds have been made available to Thunder to strengthen a push for promotion, with the eventual long-term aim of a return to Super League.
"It's a massive plus," Thunder coach Stanley Gene told BBC Sport.
"I have always thought this part of England should have a Super League team.
"Hopefully we can start to bring some players in. If we make that spot in the play-offs anything can happen."
Thunder will continue to play at the International Stadium until the end of the season, but no home venue has been confirmed for 2015.
In addition to funds, Thunder will benefit from the off-the-field expertise from their union partners.
"There are obvious benefits," Falcons commercial consultant Mick Hogan said.
"Going forward there are plenty of examples of where we can swap ideas, swap off-field resources in administration and marketing and, possibly, medical and strength and conditioning can be shared as well.
"If you were going to say who the winner was out of it, Gateshead Thunder will see the most immediate benefit in terms of a bit of a resource put behind it to attract more players.
"Hopefully that will manifest itself in better performances on the field."
The two clubs are not the first to share aspects of their cross-code set-up, with Leeds' similar link between the Rhinos league and Carnegie union sides.
But London Broncos, formerly known as Harlequins Rugby League, ended their link with the union club of the same name at the end of the 2011 season and moved to a new home at Barnet's Hive at the beginning of 2014.
Falcons director of rugby Dean Richards was in charge at Quins during the London experiment and is positive about the link-up and the potential for growth.
"I've worked with a number of people who have flitted between union and league, it's a very similar sport," Richards said.
"The interest that will be generated in the game and in the area are all positives for us."
The dual-code partnership was given the go-ahead in March when the ThunderStorm supporters trust agreed to the transfer of shares.