State of Origin is 100: Australia's rugby league spectacular
Last updated on .From the section Rugby League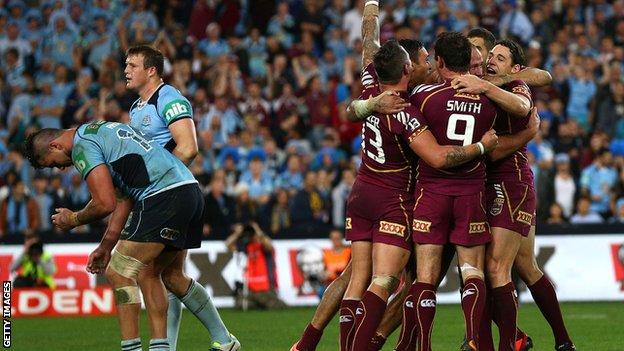 In most sports, international recognition is the ultimate for any professional. However, not all sports have a competition like State of Origin.
'Origin' is arguably the greatest rugby league match-up in the world.
Australia's 'Kangaroos' are the best rugby league playing nation in the world; their 2013 triumph was their 10th success in the 14 World Cups since the inaugural contest in 1954, and have the top club competition - the National Rugby League.
What Origin does is pit the best Australian-qualified players from the country's two big 'footy' states - Queensland and New South Wales - against each other in a three-game series.
On the eve of the 100th game between the two rivals, BBC Sport has enlisted former Queensland prop Neville Costigan and ex-New South Wales winger Joel Monaghan to explain just what makes Origin such a big draw.
Intense rivalry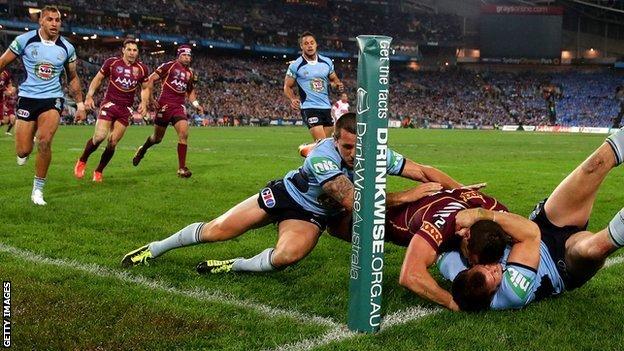 Although interstate rugby has been played in Australia since the early part of the 20th Century, it was not until 1980 that the notion of an annual fixture between the two biggest rugby league representatives was made into a formal contest. It started with a one-off game, won by Queensland for the first two years before it was finally expanded to the three-game series still played today. Queensland have 18 wins since that 1982 series to New South Wales' 12 victories, with two draws. In addition, Mal Meninga's Maroons - as Queensland are known - have won the last eight series against the Blues.
Neville Costigan: "In NRL there's good players, but in Origin they're elite players, they do nothing wrong and it's so hard to make a break or score a try because of that level of talent.
"It's three times faster than NRL, it's three times tougher as well. It's where you want to be."
Joel Monaghan: "As a rugby league player wherever you play you can tell the type of intensity there is in Origin."
Origin selection
Only players eligible to play for the Kangaroos can qualify to play Origin, and players have various criteria including place of birth and the location of their first senior rugby club. The general rule is that players must also play in the National Rugby League - the exception being Allan Langer in 2001, who was called up while at Warrington in Super League. The cross-pollination of Pacific Islanders into the Australia side has in turn brought Origin representation for stars such as Lote Tuqiri and Petero Civoniceva, while several Kiwis such as James Tamou and Ben Te'o are also Origin-registered. Getting the jersey is a huge honour as it means a player is rated among the best in their position in the world's best league.
Joel Monaghan: "There's nothing better than playing Origin, standing out when I've finished and I'm old and someone says to me what was the highlight of your career, I'll say probably singing the national anthem at my first Origin game in Sydney in front of family."
Neville Costigan: "I made my debut in 2007, when I got the call I got goose-bumps all through my body.
"It was like I'd won the Lotto, it's one of the best things I've ever had happen in my life. It was awesome.
"I rang my dad first and then the rest of my family and friends, but it was a blur, I was so excited."
Mate versus Mate
The 'State against State, Mate against Mate' slogan has become a mantra for Origin - particularly for those who come together for the Kangaroos side, and for Queenslanders who play their footy at one of the many Sydney-based clubs in 'enemy' territory. In 2013, QLD trio Ben Te'o, Greg Inglis and Chris McQueen were pitted against South Sydney team-mate Nathan Merritt, while on the other scale NSW prop James Tamou went up against three North Queensland Cowboys team-mates in Matt Scott, Johnathan Thurston and Brent Tate.
Neville Costigan: "When you get in the team, as soon as you cross the white line, they're your enemies. I played against Blues players who were my team-mates, I didn't think of them as my mates but afterwards everything stays on the field.
"You get back to your clubs and just laugh about it."
Joel Monaghan: "For these three games a year it doesn't matter who your team-mate is, there's nothing like it."
Audience appreciation
Given the quality of players, added to the rivalry stoked by state pride, the Origin series is usually a sell-out. The biggest crowd to watch an Origin game was at the ANZ Stadium in Sydney in 1999, when 88,336 fans flocked to see game two of the drawn series. In 2014, Suncorp Stadium in Brisbane is expected to sell-out, and having sold out both matches last year, New South Wales are confident of the same at ANZ.
Joel Monaghan: "It even shows with eight series defeats in a row there's still record ticket sales and TV viewing figures, so it's how good the game is even when it's one sided.
"Even over here it's something you mark on the calendar when it's around the corner it's pretty exciting it's that special."
Neville Costigan: "Origin has grown to another level, even if you're not a footy fan, everyone wants to watch Origin."
The 'Biff'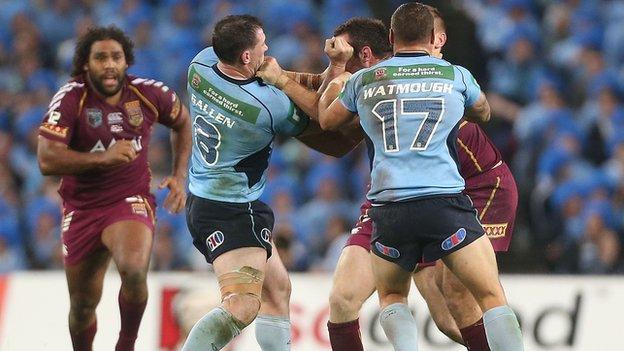 Any doubts as to the authenticity of the rivalry in Origin should be dispelled by the sheer volume of fisticuffs over the last 34 years. Australian rugby league magazine Rugby League Week calculated 199 individual fights in the 99 matches so far. Whether it is Greg Oliphant's clip to the head of Graeme Wynn in the first meeting, Mark Geyer singlehandedly battling the Maroons in 1991 or Paul Gallen's shots on Nate Myles last year - it is always close to boiling point in Origin. After 2013's clash between Blues skipper Gallen and QLD front-rower Myles, the NRL stated any punches would result in an automatic sin-binning or worse. Whether it deters the classes of 2014, time will only tell.
Neville Costigan: "That's what everyone loves about Origin, there's always a scrap somewhere, people love seeing a scrap. It makes it a bit more exciting, adds to all the hype.
"I don't think anyone goes out to punch someone's head in, it's just the heat of the moment and it's boiled up. It's fun to see but I love watching from the sideline."
Media attention
While rugby league battles for column inches in the United Kingdom, over in Australia the sport leads the agenda, and no more so than during an Origin series. Even before the teams are announced, newspapers and news programmes go big on the event with speculation and debate.
Neville Costigan: "It's ridiculous, you're in camp for 10 days and even leading up to that the media wants to try to find out as much as they can - your phone just keeps ringing out.
"That week is non-stop, which is good as it gets your name out there and makes Origin a bit more special being in the papers."
How will 2014 go?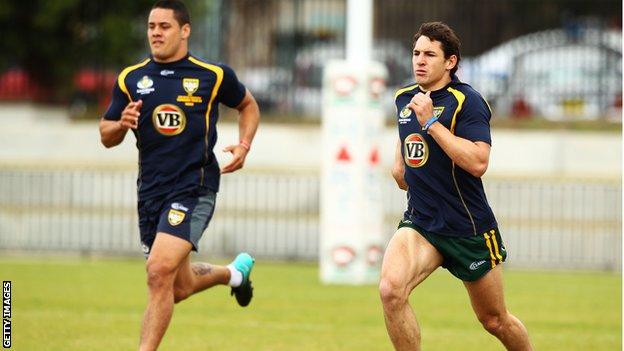 Queensland go into the series seeking a ninth straight overall win, and have kept faith with much the same side that emerged victorious in 2013. Blues have an in-form Jarryd Hayne on which to build their platform at full-back, but with back-rower Greg Bird suspended, and a new halves pairing in Trent Hodkinson and Josh Reynolds, their preparations have been affected.
Joel Monaghan: "It hasn't started well, with injuries and suspensions there could be three or four key players for NSW being out but no matter who they you can go out there and do a job.
"Queensland's team is getting on a bit now, hopefully NSW can make a run at it and I think if they pick the right team and pick blokes in form, blokes like Jarryd Hayne, who is killing it at the moment, they've got a great chance.
"Hayne's back to his 2009 form, I'm not a selector but you have to pick him at full-back, he's been that dominant this year, he's probably the best full-back in the league so hopefully they pick the right team and get the job done."
Neville Costigan: "I don't see Blues getting another series, I can't see them getting this one.
"Billy Slater, Greg Inglis, everyone you name in that Queensland team is unstoppable. They're pretty faithful to that team and know they can do the job.
"I played with Inglis for about six games, he's pretty quiet but gets on with his job and does it really well. He carves it up wherever he plays."