Rugby league player banned for evading drugs test
Last updated on .From the section Rugby League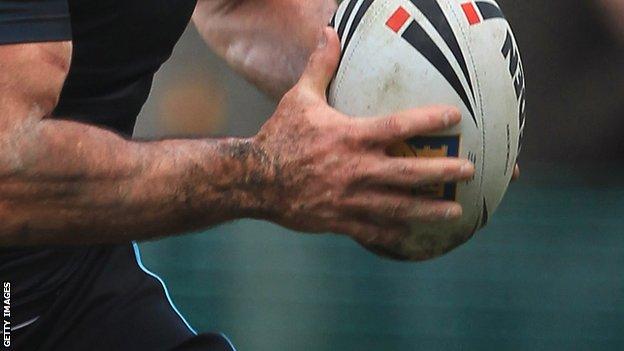 A player from semi-professional rugby league club London Skolars has become the first British athlete to be banned for deliberately evading a drugs test.
Sebastian Kolasa, who made one substitute appearance for Skolars last season, avoided a UK Anti-Doping out-of-competition test in August 2013.
The 19-year-old pleaded guilty and has been banned for 15 months.
Kolosa's ban is a reduction from the two years originally imposed and has been backdated to 1 September 2013.
The reduction in the ban is a reflection of Kolasa's co-operation with the investigation.
UKAD director of legal Graham Arthur said: "To fail to comply with sample collection is a serious violation of the anti-doping rules.
"The message to athletes is clear - if you are approached for testing, do not refuse or walk away as the consequences are severe.
"In the case of this athlete, had he stayed and been selected for testing, it is quite possible that the outcome would have been very different.
"From 1 January, the penalties for not doing so will double, and athletes trying to deliberately cheat the system are likely to face four years excluded from sport."
Skolars chief executive Hector McNeil said: "The club views this whole episode extremely seriously and, like the sport as a whole, we take a strong anti-doping stance.
"The national anti-doping panel that heard the case acknowledged that Sebastian did not commit any anti-doping rule violation involving use of a banned substance, and in fact two days later provided a negative test, but evading a test is a serious offence which is recognised in the severity of the sentence.
"Sebastian is a promising youngster, who realises he has made a serious error of judgement and is full of remorse."