Joey Grima: London Broncos to get Super League-level players
Last updated on .From the section Rugby League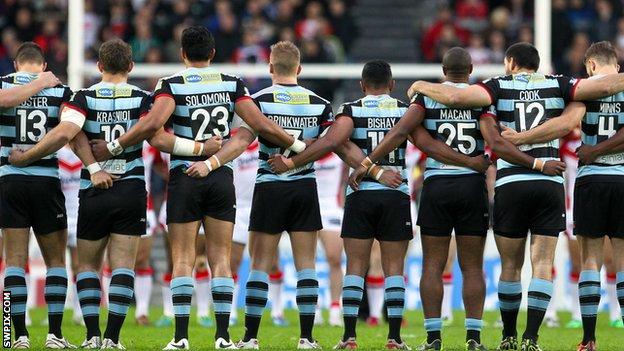 London Broncos head coach Joey Grima says they have Super League-standard players signed up for next season.
The Broncos have lost all their games this season and look set to be relegated to the second tier.
"We've already negotiated with current players and also signed off on some prospective players," the Australian told BBC London 94.9.
"Whether we are or aren't [in the second tier] the players we are signing are capable of playing Super League."
He added: "If you've got aspirations of being a dominant side in the top competition, you need to have a programme where you purchase players or encourage players to come to your club to play at a particular level.
"That will be governed financially by where we are next year but the players we've targeted can play a minimum of Super League.
"We're targeting players we want at our club for their ability but also for their character.
"We want people who are willing to stay here and battle hard to allow us to back to where we were in the glory days."
Grima replaced Tony Rea as coach of the Broncos last month, having previously been assistant coach at The Hive.
The former Parramatta Eels player says he is working on a strategy which will help the club develop on and off the field.
"One of the things I've been working on is a nine-point plan - a white paper if you will - to give us a two-year projection on where I feel the club could and should be going," Grima said.
"It's things such as coaching principles and foundations and different structures. There are some challenges ahead but we are making little inroads forward.
"It may not be evident on the football field but on the training pitch and projecting into 2015 and beyond, there are certainly some plans in the wings."
Meanwhile Grima is still optimistic the Broncos can register an elusive first victory before the end of the season.
The club, who have never finished bottom of Super League, suffered a narrow 24-22 defeat by Catalan Dragons at the Magic Weekend.
"One of the reasons I decided to come here was to get out the comfort zone and give myself another challenge, which is certainly what has come about," he said.
"We're sitting in last spot but if you don't have that positive attitude you can make work a sombre and difficult place to be at.
"I'm very fortunate and blessed for the role that I am in. I get up every morning and think 'Wow, I'm so lucky'.
"I go to sleep knowing that the processes I do religiously every week will be continued. If we run harder, tackler harder and compete harder we will change our luck and get our first win."