Zak Hardaker: Leeds Rhinos full-back apologises for comments
Last updated on .From the section Rugby League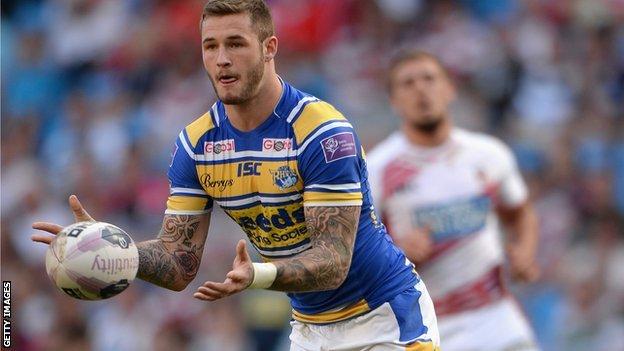 Leeds full-back Zak Hardaker has apologised for "offensive" comments aimed at Warrington's Michael Monaghan during last week's loss to the Wolves.
The Rugby Football League is currently investigating claims the 22-year-old Hardaker made homophobic remarks during the Super League match.
"First and foremost, I'd like to apologise for any offence my comments during that game have caused," he said.
"I would especially like to apologise to Michael Monaghan."
The RFL has yet to rule on the case, but Hardaker could be charged with breaching its Respect policy and bringing the game into disrepute.
Hardaker added: "In the heat of the game, I have used an offensive term and I can honestly say I was deeply saddened when I found out after the game how my comment had been perceived.
"During the investigation, I was made aware that the referee on the night, James Child, also heard my comment and was offended by it.
"I would like to unreservedly apologise to him for that and I can assure him that no offence was intended toward him.
"As professional players, we know that we have an obligation to conduct ourselves in the right manner for the good of the game at all times.
"That includes with our team-mates, opponents, officials and, of course, supporters at the ground and those watching at home on television. My comments fell below those standards."
Earlier this season, Wests Tigers player Mitchell Moses was banned for two games for homophobic comments in a State of Origin match.
England international Hardaker has been in impressive form this season, having played in 14 of the club's 15 league matches.
He was selected for last year's World Cup but withdrew for personal reasons after missing the first two games of the tournament.