Challenge Cup: Castleford hope for history repeating against Wigan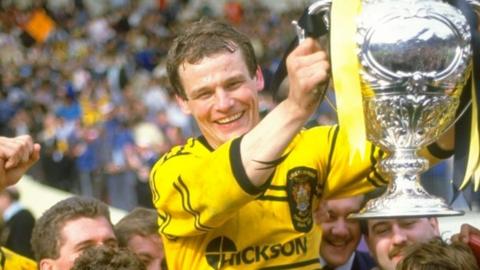 Challenge Cup quarter-final: Wigan v Castleford
Venue:

DW Stadium, Wigan

Date:

Saturday, 7 June

Kick-off:

14:30 BST

Coverage:

Live on BBC One HD, radio commentary on BBC Radio 5 Live, BBC Radio Manchester and BBC Radio Leeds.
The last time Castleford beat Wigan in a Challenge Cup quarter-final, the men in black and amber went on to lift the famous trophy aloft at Wembley.
That year was 1986, when Malcolm Reilly's side put the class into Cas with a capital 'C'.
Inspired by captain John Joyner, Australian outside-back Jamie Sandy and Great Britain centre Tony Marchant, Reilly had built a side ready to mix it in big occasions.
Wigan were the holders and a formidable draw in the last eight, but Castleford upset the form book to progress on opposition turf.
"We'd beaten them a couple of times in the season so we were confident," Marchant told BBC Sport.
"Cas always seemed to do well against Wigan - even though they were the holders we never seem fazed against them. We lifted our game against the top sides."
Castleford were a side with cup pedigree in the seasons leading up to their 1986 triumph - twice falling to a star-studded Hull FC outfit at the last-four stage in 1983 and 1985.
However, the attitude within the squad was that this was their time.
Having beaten Wigan, Castleford went onto see off Oldham - again at Central Park in the semi-final - and then onto Wembley where they edged 1980 winners Hull Kingston Rovers in the final - 15-14.
Rovers had ended Cas's Premiership dreams with victory at Headingley in 1984 but revenge was sweet as Marchant scored one of the 'Fords' three final tries along with Robert Beardmore and Australian speedster Jamie Sandy, while Beardmore also landed a crucial drop goal that eventually settled the game.
"We'd been in a few semi-finals the year before and the year before that, but this was the year we really believed we could actually do it," Marchant added.
"We had a couple of decent draws in the earlier rounds but we had this definite belief it was going to be our year.
"The team seemed to gel together in 1986. Hull KR were the favourites, they were the previous league champions in 1985 but Malcolm Reilly gave us so much self-belief we could beat anybody on any given day.
"We never ever doubted it."
For rugby league players of that time, many of whom held down down jobs while playing, Wembley was as special a day out as it was for the supporters.
Challenge Cup final selection was the pinnacle, up there with a Great Britain tour jersey in terms of recognition.
"When we drove down there it actually hit me. I remember going along 'Wembley Way' and it was awash with red and white for Rovers, amber and black for Cas," said Marchant.
"To see the old fashioned Twin Towers it was like - wow! Walking out onto the pitch, everything about it, was special.
"I just wish smart phones had been invented so we could have recorded it all.
"At the time the TV broadcast was cut short because Liverpool had won the championship so they missed us running around with the cup at the end."
Much like the current crop at Cas, the majority of the squad assembled by Reilly had its roots in the community.
"Most of the team were from Castleford and the surrounding area," Marchant continued.
"We had Ian French and Jamie Sandy from Australia, Kevin Ward from just down the road at Stanley near Wakefield, and Martin Ketteridge was the farthest one away who lived in Doncaster.
"I still live in Castleford and get about a lot and people everywhere you go are stopping me and it's great to talk about it. I still go down to the games and it's great to see the fans. They're die-hard."
Local pride was a major factor inspiring those players at the time of their achievements.
Castleford and its surrounding towns were hit as hard as anywhere by the 1984-85 miners strike, and the success was some light relief to those who had suffered hardship.
"The town was a bit down with people out of work and we needed something to grasp and a bit of reality back into their lives," Marchant continued.
"Us winning at Wembley did the town a world of good. Things got back on track eventually after that, but it's something that almost 30 years on people are still talking about."
Although Daryl Van Der Velde's 1992 Castleford squad made it all the way back to Wembley, coincidentally to be beaten by a rampant Wigan, the class of '86 remain the last in amber and gold to bring home one of the two big prizes.
The nearest they have come since was when Terry Matterson's exciting Tigers - guided by Rangi Chase - took Leeds to golden-point time in the 2011 semi-finals at Doncaster before Kevin Sinfield's penalty broke Fords hearts.
Twenty-eight years on, the team from Wheldon Road have the opportunity to repeat the feat.
Daryl Powell's side have been one of Super League's surprise packages in 2014 and have already beaten Wigan at home in the regular season competition.
"It's going to be a fantastic game, and hopefully the lads are going to go to do it," Marchant continued.
"Barry Johnson (member of Castleford's 1986 team) is going down for a chat with the team, to go through what it all means, what it means to the town and the team.
"You can go down in history as winners of the Challenge Cup. He's a good motivator is Barry, I hope he can motivate them to beat Wigan."