Barrow Raiders: Bobbie Goulding attacks the RFL's choice of referee
Last updated on .From the section Rugby League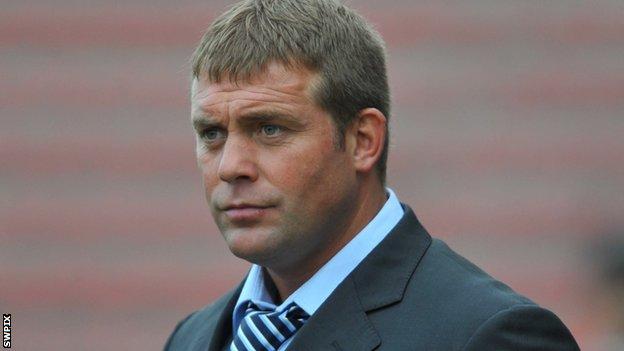 Barrow player-coach Bobbie Goulding has criticised the Rugby Football League's decision to use a referee from Whitehaven in their loss to Doncaster.
Raiders are fighting relegation against west Cumbrian sides Workington and Whitehaven.
"To send a referee from Whitehaven is not on," Goulding, who was sent-off in the match, told BBC Radio Cumbria.
The RFL have said Golding's comments will be reviewed on Thursday and any further action will be decided then.
Following their 22-10 loss to third-place Doncaster, Barrow lie next-to-bottom in 13th in the Championship, eight points from safety.
The Raiders are based in the south of the county, with west Cumbria being the heartland for rugby league in the area.
Regardless of the fact Gareth Hewer has previously refereed a number of matches at Craven Park, the Barrow boss said he had concerns for some time.
"I was really worried about this game and the officials in it," he said.
"I spoke to my chairman last night and asked him to come and have a word, I was that bothered."
Goulding's dismissal late into the second half, as with all sending's off, is also set to be reviewed.
The 42-year-old appeared to berate the touch judge for a lengthy period of time just after his side had scored a try.
"I don't know why I got sent off, it's a joke," the former Great Britain player said. "Dan Toll got a yellow card for fighting and I got sent-off for asking the touch judge what it was for.
"Can't you speak to these officials anymore? This is why the game is going backwards."