Zak Hardaker: Leeds full-back banned for homophobic abuse
Last updated on .From the section Rugby League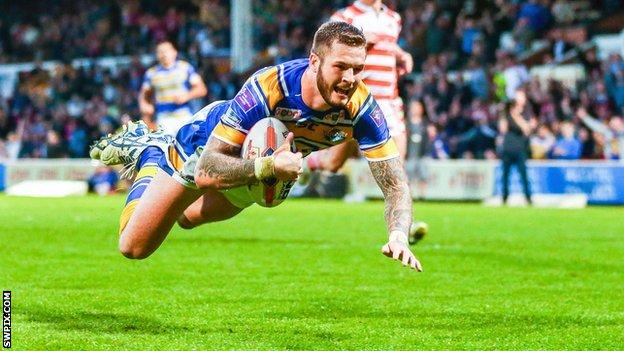 Leeds Rhinos full-back Zak Hardaker has been given a five-match ban after being found guilty of homophobic abuse.
The England international was also fined £300 by a Rugby Football League disciplinary panel for the incident in his side's defeat by Warrington Wolves.
Hardaker was charged with a Grade E offence which carries a ban of between four and eight matches.
The 22-year-old last week issued an apology for his comments, admitting he used inappropriate language.
Following the disciplinary action, Hardaker said: "I would like to once again say sorry for any offence my comments during the Warrington game have caused.
"I know that I made a mistake and it does not matter who I directed the comment at, as it still causes offence to those who saw or heard it.
"I will accept the findings of the disciplinary panel and will look to put this experience to good use in terms of my professional and personal development."
Head coach Brian McDermott said Leeds "welcome the fact that Zak has recognised his mistake".
"We will work with him to make sure that this type of incident does not happen again in the future," added McDermott.
"We were pleased that the panel made a particular point of saying that they did not believe that Zak had meant his comment as a homophobic remark and that they considered that Zak was not homophobic.
"The club has worked hard to raise the issue of anti-homophobia in the past and we remain committed to working against all forms of discrimination."
Earlier this season, Australian player Mitchell Moses was banned for two games for homophobic comments in a State of Origin match.