Weller Hauraki: Salford Red Devils sign Castleford back-rower
Last updated on .From the section Rugby League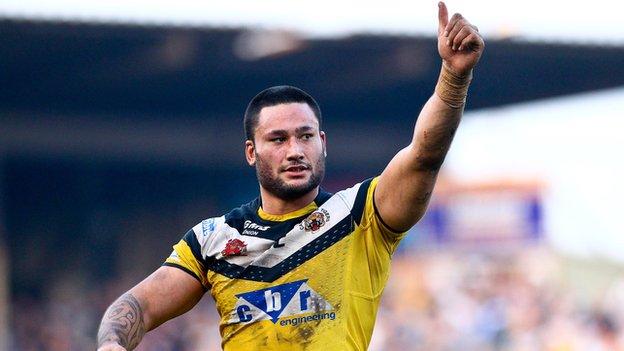 Salford Red Devils have signed Castleford Tigers back-rower Weller Hauraki for the 2015 season.
Hauraki, 29, who has been a key part of the Tigers' impressive season so far, joins Ben Jones-Bishop for next term.
The New Zealand Maori international moved to then Super League side Crusaders from Parramatta in 2010, and also spent two seasons at Leeds.
"Weller has proven he knows the Super League well," chief executive Martin Vickers told BBC Radio Manchester.
"He's strong with the ball and he's extremely powerful defensively.
"Wherever he's played he's been a huge player and a solid professional, a fantastic club guy."
England half-back Rangi Chase, also a Salford player, was born in Dannevirke and is a distant cousin of Hauraki - with the pair once living together as youngsters.
Red Devils coach Iestyn Harris, who will welcome fellow Kiwi star Kevin Locke to the club once his visa has been acquired, will also have winger Jones-Bishop arriving from Leeds.
Harris worked with Hauraki during his own stint with Crusaders, but the back-rower was already a target for the Red Devils before his arrival in April.
"Iestyn has first-hand knowledge of Weller, so the minute his name was mentioned when he first got here, he jumped at the chance," Vickers added.
"He wants people who are proven in this game and Weller is certainly that."
Vickers also confirmed that Castleford loanee Marc Sneyd will be back at Salford for 2015.