Leeds Rhinos: Zak Hardaker thanks England boss McNamara
Last updated on .From the section Rugby League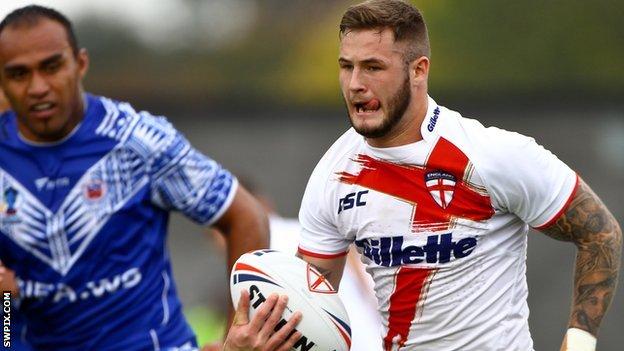 Leeds Rhinos full-back Zak Hardaker has thanked England coach Steve McNamara for standing by him after he was banned for five matches for homophobic abuse during a Super League game.
"He rang me a couple of weeks back and asked me to come back," said Hardaker.
"It was an overwhelming phone call and I was really thrilled."
He added: "A stupid comment comes out and it could ruin your career. I was like what's happened here - everyone was going mad about it.
"The last week was a bit troublesome, my head was all over the place and I didn't know what to expect.
"But a day or two after the investigation started Steve text me and I was under no illusion that he'd be right by my side.
"You can't get more comforting than an international coach saying that to you, so that really sparked me on and made me feel happy about myself. The backing from Steve Mac is brilliant."
This week's training camp is the first time McNamara, who combines his job with the national side with the assistant coach's role at NRL side Sydney Roosters, has called the squad together since reaching the semi-final at last year's World Cup.
He is confident the former Featherstone player can move on from the recent controversy.
"I've had some good conversations with Zak," he said.
"He made some mistakes in the World Cup and had some things he needed to deal with and fix. I'm happy that he's done that."