Wigan Warriors: Joel Tomkins 'humbled' by return welcome
Last updated on .From the section Rugby League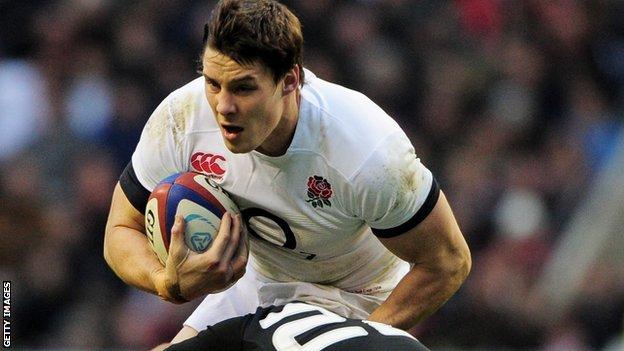 Joel Tomkins says he was "humbled" by the welcome he received following the announcement of his return to Wigan.
The 27-year-old told BBC Radio Manchester: "I love this club and it's for that reason I have come back.
"The reception from the supporters was overwhelming and really humbling to be welcomed back in such a fashion."
Tomkins has signed a deal until the end of 2018 and joins the Super League champions for an undisclosed fee, three years after switching codes to join Saracens.
"I am really grateful for the club for giving me this opportunity and it is up to me now to pay them back with some good performances," Tomkins continued.
"I am am just excited to be back and get stuck into training. I had to keep it secret for a few days now, so that's been difficult.
"I am ready to get into it and looking forward to playing out here again."
But Tomkins, who played three Tests for the England rugby union side last year, revealed he will have to wait a while before making his second debut for Wigan.
"I have just had a little surgery on my back about 10 weeks ago now, but obviously with it being your back it is quite a long rehab process," he said.
"I have got about four to six weeks left, but everything is going to plan up to now. We'll probably aim at the first of August."
Wigan chairman Ian Lenagan is in no doubt that Tomkins is an even better player than the one who left Wigan in 2011.
"Joel Tomkins is very significant for us because he loves playing for Wigan," Lenagan said.
"He has come back after three years a better player and has been an England rugby union international, as well as England rugby league international.
"But it is the fact that Wigan has come to Wigan, that's the nice thing about it."