Salford: Iestyn Harris looks forward to welcoming new signings
Last updated on .From the section Rugby League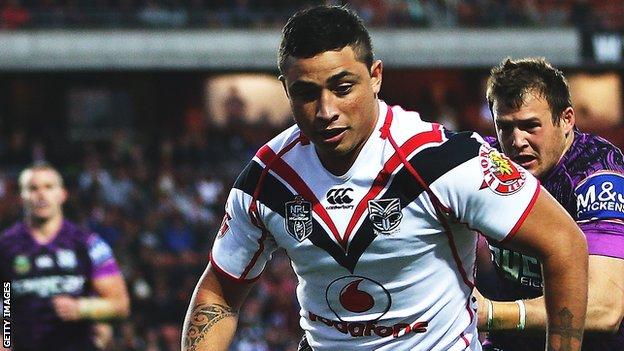 Iestyn Harris says he is excited at the prospect of new signings Kevin Locke and Mason Caton-Brown joining Salford's squad in the final weeks of the season.
But Harris told BBC Radio Manchester he will not select the pair until he feels they are ready for first-team action.
"It's important they have time on the training field," said Harris.

"It's important they get time to meet and work with their team-mates.
"It's difficult because somebody can slot into a training session and look like they've always been there, and then somebody else can look lost and it takes them two or three sessions to get into that groove, but I'm certainly looking forward to seeing them both on the training field."
Caton-Brown, 21, has impressed for the Broncos during a season in which they have lost all 17 games they have played in Super League.
Many of London's young players have been given first-team chances in 2014 as a result of the club's financial problems.
"It's a young squad and we're all getting time on the field," said Caton-Brown. "It's been a big opportunity and I've taken it with both hands.
"I never really doubted myself. I've got an ambition to do well in Super League and it's been a good year so far."
Speaking about his move to the Red Devils, who are 12th in the table, he continued: "There's a buzz around Salford, which is exciting.
"I know (Salford coach) Sean Long. I enjoyed training with him at London and learned a lot. I think I can learn a lot here and improve my rugby."