Warrington Wolves: Serbia pair target Super League move
Last updated on .From the section Rugby League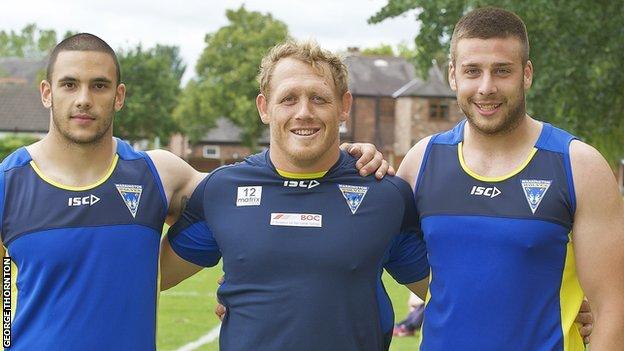 Two Serbia internationals are hopeful of a career in Super League after being invited to train with Warrington.
Stefan Nedelkjovic and Stevan Stevanovic, both 22, have been involved in sessions with Tony Smith's squad.
The pair balance their studies with playing rugby league in Serbia and want to become professionals in England.
"I hope that dream is possible," said Stevanovic. "I think it is and I hope that, maybe next year or after that, you will watch us in Super League."
Stevanovic, who can play as a second-row forward or as a centre, told BBC Radio Manchester: "These have been the best few days of my life.
"It's a dream come true for me and my friend. We are enjoying living like a professional rugby player.
"Everyone has been really good with us and that means a lot to us because we didn't know what to expect when we came from Serbia to England. England is a big country and rugby league is at a much higher level."
Versatile forward Nedeljkovic, who is the vice-captain of his national team, added: "All the players and staff have been so welcoming to us.
"From the first minute we came here, they have been speaking with us like we have been friends forever. We didn't expect that kind of welcome and that's why we're so happy here.
"We've learned things that we were not so good at back home and we can try and pass those things on to other players in Serbia."
Serbia are ranked 17th in the world and eighth in Europe behind England, France, Wales, Ireland, Scotland, Italy and Russia.
European sides in RLIF world rankings
3. England
4. France
6. Wales
9. Ireland
11. Scotland
12. Italy
15. Russia
17. Serbia
Warrington coach Tony Smith is keen for the game to grow on the continent.
He told BBC Radio Merseyside: "Every Super League club was approached and asked if they would be willing to give them a week or two of experience.
"I had a connection with one of the boys some years ago when I was England coach. I went to an Under-18 tournament in Serbia and actually coached one of these boys. I was only too happy to help them out."
Smith, who has led Warrington to three Challenge Cup wins and two Grand Finals during his time in charge of the Wolves, continued: "They've been terrific.
"It's been good for their development and it's been good for us. It's given us something different within the camp.
"They're at a good level - I'd like to think they're about Championship level players.
"There's some talent over there and I think we just need to nurture it. We're more than happy to nurture some of that and contribute to the development of the game in Europe."