Salford: Marwan Koukash has 'learned from mistakes'
Last updated on .From the section Rugby League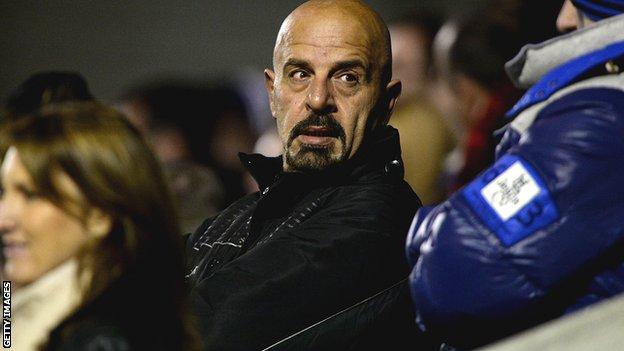 Marwan Koukash has admitted he was a rugby league "novice" when he took over Salford in January 2013 but has learned from the mistakes he has made.
Salford finished bottom of Super League last term and, despite heavy investment in the playing squad, are unlikely to reach this season's play-offs.
"I'm big enough to admit that I have made a few mistakes," he said.
"I learned from my mistakes and I think the mistakes I've made will help me to be a better chairman in the future."
Speaking to BBC Radio Manchester's Rugby League Extra before Salford's 45-4 defeat at Wigan on Thursday, Koukash continued: "Would I have done things differently? I would have done, had I known what I know now.
"But I'm glad we're still around, we've managed to make the changes and we're moving forward now."

Koukash, a successful businessman and racehorse owner, had no prior involvement in rugby league before rescuing Salford from serious financial trouble on the eve of the 2013 season.
Since then, he has changed the club's nickname from "City Reds" to "Red Devils", appointed two new head coaches and brought in a number of star players - including England international Rangi Chase and New Zealand full-back Kevin Locke.
Results have not followed for the most part, and although the Red Devils have enjoyed a positive run of form in the closing weeks of the season under Iestyn Harris, they are 11th in the table and four points from a top-eight spot with four matches left to play.
"Earlier in the season, I was a novice," said Koukash. "I really believed that you could just buy individuals and slot them into a team that can compete.
"That's never going to happen because a team needs to gel, and possibly some of the players we had were not the right balance for the team.
"We took action, myself and Iestyn, and we brought in the players we needed to make that team a little bit more exciting.
"When you look at how we played against Huddersfield and the two Hull teams, we were an exciting team to watch."
Koukash confirmed that he remains in discussions with an unnamed NRL club in Australia, reported to be financially-troubled Newcastle Knights, about a possible takeover.