Eorl Crabtree: Huddersfield prop wary of Twitter criticism
Last updated on .From the section Rugby League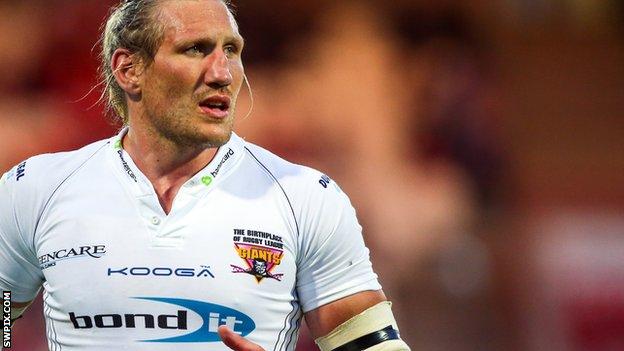 Huddersfield Giants prop Eorl Crabtree says Super League bosses need to be wary about how they criticise players.
The 31-year-old was reacting to Salford chairman Marwan Koukash's decision to take to Twitter and condemn his team following the loss to Wakefield which ended their play-off aspirations.
Crabtree told BBC's Super League Show: "It's not the right way to go about it.
"There is a problem when you publically criticise your players, from coaches to owners. I prefer it to be in-house."
Koukash's Twitter backlash
"With a **** performance like that, I could only apologise to our fans. I wish it was different , but that was the rubbish we got today."
Crabtree continued: "Yes, you need to look at yourself in the mirror, but you need to constructive criticism."
Since their loss at Wakefield, Koukash has again turned to social media to announce that the club have cancelled their player of the year awards ceremony.
The successful businessman and racehorse owner had recently admitted that he has made mistakes since taking over the Super League club in January 2013.